Dear reader,
We acknowledge that the scope that we are able to provide for this project (which certainly won't be the last of its kind) is rather narrow. This volume's dedication to queerness is merely an icebreaker to an ongoing discussion of intersectional identities that are inherently complex and beautiful. The Sticky Rice collective is committed and dedicated to providing space and opportunity to support and empower the unheard and the unseen. In discussing our life experiences within the settler-colonial state, this necessitates the acknowledgement of stolen land, its accompanying genocidal histories, and contemporary dispossessions, and the ongoing resistance of Indigenous peoples. Although this volume was an international collaboration, the core team and contributors of this project joined forces predominantly from across Turtle Island, from the unceded territories of the Kanien'kehá:ka, the Haudenosaunee, the Anishinaabeg, the Mississaugas of the Credit, the Huron-Wendat, and the xʷməθkʷəy̓əm (Musqueam), the Sḵwx̱wú7mesh (Squamish), and the Sel̓íl̓witulh (Tsleil-Waututh) nations, namely Montreal, Toronto, and Vancouver. We call upon Asian Canadians to confront and acknowledge our roles and responsibilities as settlers of colour. Although our ancestors did not benefit from the same privilege systems as many white settlers, we were directly involved in the settler colonial project across Turtle Island. We, as Asian Canadians, participated in and continue to participate in the colonial system by assimilating into the mainstream construct of "Canadian" identity and adopting settler support of the settler state. We would like to invite all our readers and friends to take a moment to consider our positions and relations to the land upon which we live and exist.

Photo series by Feng 峰, Art Direction by Mary Chen, Styling by Jessica Thai, Hair by Joy Sugiura, Make-Up by Shannie Beauty Artistry, Models Ē정, Jerome Angeles, Céleste Bonnier, Yi Ding Ya.




EDITOR'S NOTE

November 19th 2020

We all know that water takes on different forms. Sometimes, a fine mist that is barely perceivable to the naked eye; other times, it crystallizes into its solid state, while remaining versatile—melting into its liquid form under the right circumstances.

This volume sheds light on queer stories and opinions. I wanted to see queerness represented in a form that emulated the fluidity of water, contrasting with the dominant media's depiction of coming out and being queer. One doesn't have to look further than the Netflix special season of Queer Eye: We're in Japan! to understand what I mean; the Fab 5 arrive on foreign land to teach a gay Japanese man the "right" way to be out and gay.

Reconciling tradition and change is the work of many generations, a constant flux. Rarely does water need to use force to overcome an obstacle. Because water stays compassionate; protecting the integrity of the objects it encounters, keeping those who fear the depth of the unknown afloat, flowing alongside them.

That said, I am honoured to introduce the team responsible for this volume's conception, starting with the lead editor, Philip Mak, who serves looks as smoothly as he delivers timely puns in his writing. The Canada-raised, London-based copywriter for Stella McCartney has kindly offered his skill to work alongside other Canadian talents to present you with Sticky Rice Magazine's second volume—one that emerges from the introspections of our worldwide quarantine. Assisting Philip in the editing process are three bright individuals: Kevin Ah-Sen, thank you for lending us your thoughtfulness and your intuition; thank you Serene Mitchell, we've all benefited from your kindness and pool of knowledge; Diamond Yao, thank you for always advocating for the unheard. And special thanks to our project manager and pearl, Hélène Tran, for making all of this happen. To my family and friends, your support through the process means everything.

This note ends with a reminder that water is always giving, nurturing receptivity to the inconceivable, the capacity for sensuality, and self-love; it nourishes and heals, naturally. With time, queerness nibbles away at the rigid framework of heteropatriarchy, creating waves that can erode the strongest rock formation. Seizing opportunity, water will always find its way back to the source.


Viet Tran
Editor-in-Chief
(BE)LONGING: The Queer Edition
Written by Philip Mak
15 mins read

Rain on my window, a moist pillow. It is always damp in England. It has been over five years and more than 5,000 kilometres since my po-po died. She still visits me in dreams, as she did last night. While I am not a religious person, I was raised to believe that when our elders pass, they go on to an afterlife and watch over us. Watch us.

My po-po would often ask me when I would find a nice woman. She would joke and say that my wife would be ugly because I always left so many grains of rice at the bottom of my bowl. She never knew.

Primarily raised in Canada by my Hong Kong-born mother and po-po, my sexuality was never discussed. Especially for the older generation, homosexuality was an unspoken deviance; something bizarre and shameful that gweilos did. As the eldest grandson, the favourite, I thought it would kill her to know the truth. My truth.

"I became fascinated by the fact that queer Canadians of Asian descent face what has been described as the constant threat of double erasure, existing peripheral within dominant white-centric queer institutions and occluded by the heteronormativity of immigrant communities."

Sometimes, I have a split-second thought when I am on a date, when I am kissing, when I am fucking a man — I wonder if she is watching. Her passing spared me the heartbreak of not inviting her to a potential future wedding. To what lengths would I have gone to sweep my entire life under the rug? Why not just come out to her?

For many queer Canadians of Asian descent, not coming out is the safer and more sustainable choice, but also one that comes from a place of love and care — a concept addressed by Serene Mitchell and Kevin Ah-Sen in their piece, My closet, our safe haven: A love letter to us. In this volume, we give rise to the stories of our intersectional community through representation across writing and visual arts; a confluence of race, sexuality, and gender, seen through a lens with views on both the East and West. (BE)LONGING takes an inclusive approach to exploring being both queer and Canadian — open to all levels of classification and citizenship, identification and immigration. Our stories and experiences allude to a notion of queerness that is less a label and more broad identities, practices, and expressions that reject normativity. Our existence feels like a counterculture that has begun exerting its influence on the mainstream; from the obvious media frenzy of Priyanka winning RuPaul's Drag Race Canada to the more subtle fact that 85% of Canadians are now accepting of homosexuality.

As lead editor, I was inspired by the concept of being alien. I became fascinated by the fact that queer Canadians of Asian descent face what has been described as the constant threat of double erasure, existing "peripheral within dominant white-centric queer institutions and occluded by the heteronormativity of immigrant communities" as Kojima, Catungal and Diaz write. In short, we are alienated by our context and cultures — fertile ground for misunderstanding, on both sides.

Together, the editorial team and I shared a common goal to subvert the stereotypes and narratives surrounding queer Canadians of Asian descent — turning the alien into the aspirational. I hoped that we could not only give our contributors a platform to be seen and heard, but an opportunity to raise their voices disruptively as a form of protest and progress.

Across 14 submissions, our writers find themselves within, but not limited to, the intersections of being queer and Asian. We also endeavoured to represent marginalized perspectives from outside the Sinosphere. Although not perfect, I am proud of the diversity and plurality of voices we have achieved — particularly during 2020, a period of increased anti-Asian racism and global uncertainty brought about by the COVID-19 pandemic. Our representation matters now more than ever.
We're Here, We're Queer: Continuing a Legacy of Representation and Advocacy
Like many Asian millennials growing up in Canada in the 90s, I felt a jolt of joyful identification every time I saw someone who looked like me on screen. (Thank you for your service, Lucy Liu.) Excluding the tomboy energy of Buttercup on Powerpuff Girls, queer Asians were essentially non-existent.
And yet, representation is essential in dispelling alienation and stereotypes. In the first volume, I contributed a piece describing how I struggled to find a balance between my Asian upbringing and desires to have a creative career; a victim of the model minority discourse. Never could I have imagined that I would someday be living my truth, working in fashion in London. Perhaps that would have been different had I been exposed to
Paul Wong's life and artwork
.
Serene Mitchell profiles this trailblazing queer Chinese-Canadian video and media artist, who defied stereotypes growing up in 1950s and 60s Prince Rupert, British Columbia. She writes, "Wong remembers his family being labeled by people inside and outside of the Chinese community as not conforming to the 'model minority myth.' Wong recalls a particular experience he had in high school that encapsulated this, 'I remember getting called into the principal's office. The principal asked me, 'What's wrong with you and your siblings? Why don't you act like the rest of you people?'"
"Some of my earliest memories are of my mom and I sitting side by side in salon chairs as our hairdresser, a slender third-gender woman with pin-straight hair, deliberated on our cuts."

From the beginnings of his career in the 1970s to the present-day gentrification of Vancouver's Chinatown, her profile tracks the intersecting evolution of the artist and the area — a reminder that not all progress is necessarily positive. That said, representation of visibly queer and Asian art remains accessible largely through community and cultural niches.

Fortunately, spaces are opening up — including Vancouver's SUM Gallery, Canada's first gallery with a queer mandate. It was there that David Ng and Jen Sungshine's Yellow Peril; The Celestial Elements exhibit leveraged art to explore East Asian futures in the West until it was cut short by COVID-19. Featured in Yellow Peril is Vancouver-based drag performer and writer Kendell Yan (Maiden China), who also contributed a poem to this volume.

The world of academia is similarly seeing slow improvements. During my five years studying psychology and gender and sexuality at Concordia University in Montreal, Asian representation among the staff and syllabi was minimal. In my queer theory courses, Asians only ever came up in the contexts of other countries — think: screenings of subtitled films like Indian sapphic classic Fire (1996). As a powerful agent of socialization and change, representation in higher education is essential.

Hoping to remedy this, the experiences of queer Asian Canadians in academia were foundational in this volume — exemplified by Serene's conversation with Dr. John Paul Catungal, an assistant professor at the University of British Columbia's Institute for Gender, Race, Sexuality, and Social Justice. They discuss the importance of representation and community-building for queer folks of colour in the academic network, as well as the mixed responses he's received from the Filipinx community towards his work.

A fellow first-generation Filipinx-Canadian immigrant, writer Alex Quicho explores the importance of representation of queer minorities in the Philippines. Through historical and personal lenses, she dispels the stereotype of Asian conservatism towards gender and sexuality: "Back in the 1990s, my parents ran a nightclub, notorious as a cruising spot, together with a queen named Louie Cruz. Some of my earliest memories are of my mom and I sitting side by side in salon chairs as our hairdresser, a slender third-gender woman with pin-straight hair, deliberated on our cuts."

Her piece delves into the lives of those who do not conform to gender and sexual norms in the Philippines and the ongoing legacy of the babaylan — juxtaposing memories from her childhood in Manila with research into these sacred individuals. The traditional transgender shamans have persisted in spite of Spanish colonization and the oppression of the Catholic church. Building on this, we must decolonize our love and longing.
Loving Others, Loving Yourself

Representation of queer Asian relationships is still woefully inadequate, which I was reminded of during lockdown as I read Ocean Vuong's devastatingly beautiful autofiction On Earth We Are Briefly Gorgeous. The protagonist is a queer Vietnamese-American immigrant known only as Little Dog, whose first love is a corn-fed white boy from the wrong side of the tracks, Trevor.

They explore their adolescent queerness in each other's bodies, though Trevor is deeply ashamed of his sexuality and expects that Little Dog be the bottom every time. When asked why he must always top, Trevor says, "I dunno. I don't wanna feel like a girl. Like a bitch."

This highlights a stereotype that many queer Asian men who sleep with men face — explicitly, that we are submissive. Hoping to get to the bottom of this (pun intended), I spoke to legendary Toronto-based artist and academic Richard Fung. Through an exploration of his work and a compelling conversation, he reveals the role pornography has historically played in reinforcing these assumptions.

In writing the piece, I pushed past some of my own prudishness — a deep-seeded discomfort with talking about my sexuality explicitly. I believe this is in part because of my family's cultural ignorance of it, alienation in the queer community, and wider societal stereotypes that desexualize Asian men.

"For me, specifically, this entailed the stripping and sh(r)edding layers of shame stemming from the antagonization of sexuality, the desexualization of Asian maleness, and toxic (gay) masculinity."
While there is no handbook to overcome these insecurities, Eric Leong draws from his personal experiences to help others develop their sensual practices; an essential part of being compassionate to oneself. To begin, he writes his process on unshaming: "For me, specifically, this entailed the stripping and sh(r)edding layers of shame stemming from the antagonization of sexuality, the desexualization of Asian maleness, and toxic (gay) masculinity."

Coming to this place required a journey to self-acceptance, and he candidly describes becoming comfortable with his body and kinks, refreshingly defying stereotypes of passivity and prudishness. It is only through these healing steps towards self-love that one can be a partner to another. As the great American philosopher RuPaul once stated, "If you don't love yourself, how in the hell you gonna love somebody else?"

Cheek aside, representing queer Asian love and longing was essential to this volume — best captured by Toronto-based poet Sennah Yee in her original piece When I was born. It is a window into a brief sapphic fling placed in the orbit of two women's relationships with their mothers.

Sennah distils the concentration and creeping that comes with relationships in the digital age, writing, "On the Uber ride home,

your knee bopped mine anytime we turned right. When I lurk your crush I see they're learning how to tattoo in quarantine — monstera leaves, greyhounds in sweaters, skinny stars, you know."

Essential to love, and self-love, as a queer person is coming out — or is it?

"I find it very interesting how my relationship with China has somehow become an exotic one: I am viewing it through highly stylized representations made by others, but I realize I am on the other side, trying to gather bits and pieces that reflect back to me, finding "Chinese-ness" in a different land.

Within a utopian landscape decorated by blurry cultural narratives, I want to reappropriate alienation, that is the feeling of the alienation as a queer person in China, the alienation of being Chinese in Canada, and everything in between this hybrid identity. Imagining an ideal world is how I protect myself in my memories, the ones of my highschool years in China; I remember the restrictive rules and dress codes, the so-called "student haircut", that I somehow turned into a genderless form of self-expression, a rebel act. I cherish these cultural memories, especially living in a foreign land, because they make me stronger. I managed to sublimate these memories, finding new meaning and beauty in them, allowing me to finally make peace with the internal struggle of trying to fit in. How satisfying it is to take control of one's narrative, the tale of coming from another place, of immigration, change and belonging." – Feng 峰
Coming In, Coming Out
I never came out to my po-po. On my Chinese side, only my mother knows. My Western friends all find this shocking; to them, I am depriving my family of my true self; I am being inauthentic; I am living a lie. It seems in a Canadian cultural context, you are not an actualized queer person until you have come out to the world. And yet, to me, I find safety and serenity in coming in.

In Diamond Yao's brilliant article on queer Asian visibility in Montreal, she explores the aforementioned theme of coming out —or, not coming out— and how this decision can lead to estrangement, either from families or within cultural communities; the fear of wider alienation and shame was so great that many of the interviewees wished to remain anonymous. Among those who had come out, many spoke of their difficulties making their loved ones understand the way they chose to live their truths, while simultaneously wanting to also protect them.

Diamond interviewed Shawn Suyong Yi, who told her, "Coming out to [my mother] isn't just an individual thing [...] I knew it would reflect on her within the larger Korean community. That was something that I was always thinking about. How would this make her look? I was always concerned about her in some ways, I was trying to protect her at the expense of not being honest with myself."

In a Western context, can you be truly queer without coming out? Serene and Kevin's collaborative piece explores the cultural complexities of expressing one's true self — sometimes in another language that may not even have the words for it. While from an outsider's perspective not coming out may seem passive or cowardly, they have contested this by reframing it as a selfless and deliberate act of love and care.

"While from an outsider's perspective not coming out may seem passive or cowardly, they have contested this by reframing it as a selfless and deliberate act of love and care."
Kevin beautifully writes, "To us, 'not' coming out is a choice—a refusal—one that is active and deliberate. It does not represent an inability or incapability of embracing queerness. It is not weak. Instead, it is one that is tended with deep care, love, humility, and kindness. Although it may weigh heavy on the heart, it is a selfless act. It is not just about being safe, but rather about protection [...] It is a choice that those who live by colonial understandings of queerness will not comprehend."

Being selfless for the collective good of the family alongside a reverence and respect for our elders is a common thread in many Asian cultures. However, it can also lead to alienation. As someone who grew up having a difficult relationship with my mother, I often felt misunderstood by my Western friends who could not comprehend the intricacies of an immigrant perspective and my Eastern cultural roots, while my Chinese relatives and peers would simply advise acquiescence at all turns.

With courage, Sorya Nguon-Bélisle explores her immigrant mother's struggles with mental health and addiction through a harrowing multimedia story. Written in French, Sorya pens an open letter that is poignant, painful and powerful — bringing to light the common parent-child conflict arising from negotiating boundaries while remaining compassionate towards one's parent. It is a reminder that though we should honour our Eastern backgrounds, there is strength in the vulnerability and actualization to be found in Western openness.
"Queerness in most Asian countries still remain a taboo subject matter in the mainstream media, the pampered version of homosexuality is presented mostly in comedic tones, gays are often teased and characterized as 娘娘腔 (sissies) while their sexuality is censored. Marginalized communities often seek recognition in subcultures. This experience continues for immigrated families and presents its challenges, especially for first generation immigrants who still carry heavy family traditions on their shoulders.
Without representation in the media, the older generation is unfamiliar and often scared to examine the subject matter of queerness. My mom always says "I'm OK with gay people but I don't want my son to become one". This double standard is often influenced by family values, by the idea of carrying the bloodline, which poses bigger challenges being the single child. The people of the younger generation are expected to build their life around the goal of having a family. This pressure can reduce the expression of queerness to an artistic form, something not able to permeate everyday life as a normativity."
This adds a cynical tone to the utopian depiction of Asian queerness because it is detached from reality. Through aesthetic exploration of this experience, I aim to find temporal comfort and escape. And through this visual representation, I believe this sense of comfort can extend to everyday life little by little. Queerness should not be a performance, it should be a way of living." – Feng 峰
Self-Actualization
While I no longer concern myself with coming out, coming into myself is an ongoing journey. Representation is invaluable for self-actualization, allowing us to see role models and examples to either follow or be inspired by. That requires queer Asian visibility, of course.

I was struck by something Cathy Park Hong wrote in her book Minor Feelings: An Asian American Reckoning, "Asians lack presence. Asians take up apologetic space. We don't even have enough presence to be considered real minorities."

Speaking to Ssense about that sentence, Park Hong says, "When I talk about minor feelings, what I mean is when no one is acknowledging your experience or they're gaslighting the reality that you're experiencing. You feel that there's something ineffably wrong with you. I don't think white people can really understand that—never seeing your face in mass culture."


While this is clearly written from an Asian American perspective at large, it holds weight for queer Asian Canadians. In order to truly actualize as a community, we must not only be visible, but hyper-visible. New Ho Queen accomplishes this, with flare.

Derek Ho's piece details the popular Toronto queer Asian party. Historically, the nightlife scene has been a place of coming together for acceptance, community, sex, and love. Derek writes from the perspective of both being a performer and partygoer at New Ho Queen when it was still being held in person, and its subsequent (r)evolution during the pandemic.

He recalls, "To be in a space where I was not singled out as a minority was refreshing. To have the words 'Asian love' projected across the wall was cathartic. That night, I was suddenly given permission to drop the insecurities that loomed over me in my early 20s and embrace my Asianess and the Asianess of those around me."

This journey to self-love is common among many queer Asian Canadian experiences. As sexual and cultural minorities, we must overcome alienation to find acceptance. A particularly compelling take on this is our editor-in-chief Viet Tran's interview with Bam Truong, a former architect turned DJ and now acupuncturist and massage therapist.

Coming out as trans at the age of 35 presented certain challenges for Bam, particularly when transwomen are threatened by trans-exclusionary movements, violence, and transphobia amongst potential romantic and sexual partners. However, her words sparks hope; her coming out story has provided her with growth opportunities, from dating to finding herself beyond the traditional gender binary.

Identity is central also to Ē정's complementary video and personal essay en français. These media serve as an artistic biography, coalescing her identity, journey, lived experiences, and creative practices as someone who identifies as Asian, queer, as well as everything in between.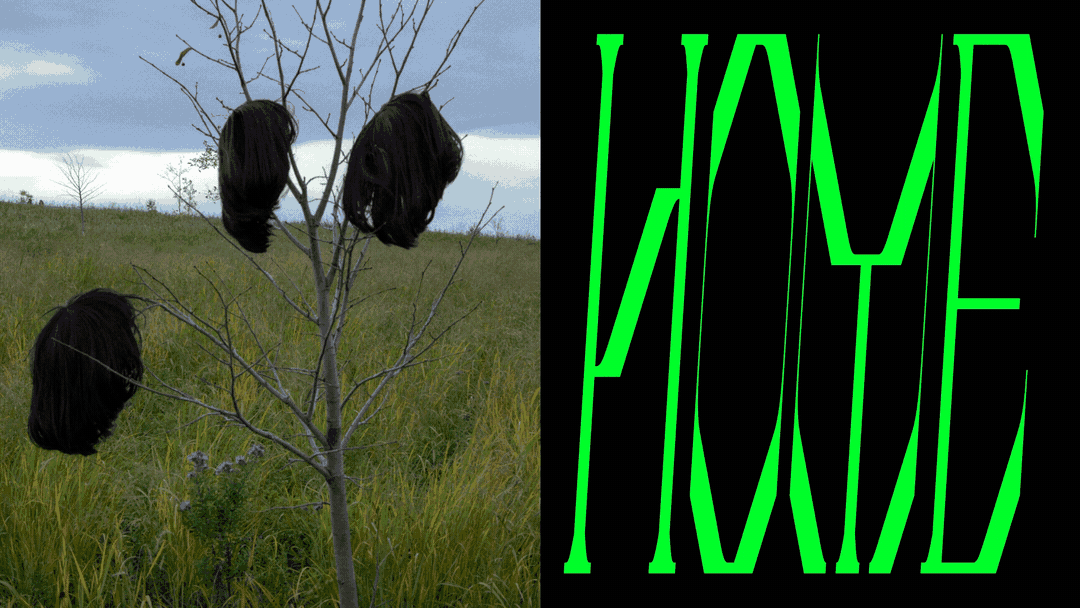 Looking To The Future
As I finalize this commentary, votes are pouring into American voting stations in what is doubtlessly the most important election in a generation. I cannot help but wonder what the future will look like, and am reminded of Catrina Chen's f l u x — a fashion editorial stripping away the differences of gendered clothing, challenging the normativity of what we wear in a post-apocalyptic setting symbolizing the end of one zeitgeist and the genesis of another. The Republicans would doubtlessly find it terrifying.

Working during lockdown from across an ocean alongside an incredible team like Viet, Kevin, Serene, Diamond as well as our project manager Hélène and creative director Olivia has been humbling and an honour. While I do not think the marginalized necessarily benefit from going mainstream, my hope is that we shifted the needle on perceptions of queer Asian Canadians through representation and powerful narratives that contribute to changing the culture.

Aliens do exist; we have existed for a long time. We are creative. We are active. We love and we fuck. We party. We are queer, and we will be quiet no more.



Cantonese for "grandmother"


Cantonese for "white person"



Introduction: Feeling Queer, Feeling Asian, Feeling Canadian
Kai Cheng Thom / I Hope We Choose Love (2019)


Eng-Beng Lim / Brown Boys and Rice Queens: Spellbinding Performance in the Asias (2013)


Vicente L. Rafael / White Love and Other Events in Filipino History (2000)


Sennah Yee / How do I Look? (2017)


Ocean Vuong / On Earth We're Briefly Gorgeous (2019)


Cathy Park Hong / Minor Feelings: An Asian American Reckoning (2020)


Alice Wu / The Half of It (2020)


David Ng / Yellow Peril: Queer Destiny (2019)


Joon Oluchi Lee / Neotenica (2020)


Samra Habib / We Have Always Been Here (2019)


Vivek Shraya / She Of The Mountains (2014)


---
HELP END THE BLOOD BAN / SUPPORT BLACK AND INDIGENOUS TRANS & TWO-SPIRIT PEOPLE HELP END THE BLOOD BAN / SUPPORT BLACK AND INDIGENOUS TRANS & TWO-SPIRIT PEOPLE HELP END THE BLOOD BAN / SUPPORT BLACK AND INDIGENOUS TRANS & TWO-SPIRIT PEOPLE HELP END THE BLOOD BAN / SUPPORT BLACK AND INDIGENOUS TRANS & TWO-SPIRIT PEOPLE
---
---
HELP END THE BLOOD BAN / SUPPORT BLACK AND INDIGENOUS TRANS & TWO-SPIRIT PEOPLE HELP END THE BLOOD BAN / SUPPORT BLACK AND INDIGENOUS TRANS & TWO-SPIRIT PEOPLE HELP END THE BLOOD BAN / SUPPORT BLACK AND INDIGENOUS TRANS & TWO-SPIRIT PEOPLE HELP END THE BLOOD BAN / SUPPORT BLACK AND INDIGENOUS TRANS & TWO-SPIRIT PEOPLE
---
WE'D LIKE TO THANK
OUR CONTRIBUTORS