VOLUME 2 / ARTICLE 13 ︎
NEW HO QUEEN:
TOGETHER, FOREVER
Written by Sissy Nein
Photos courtesy of New Ho Queen
November 2020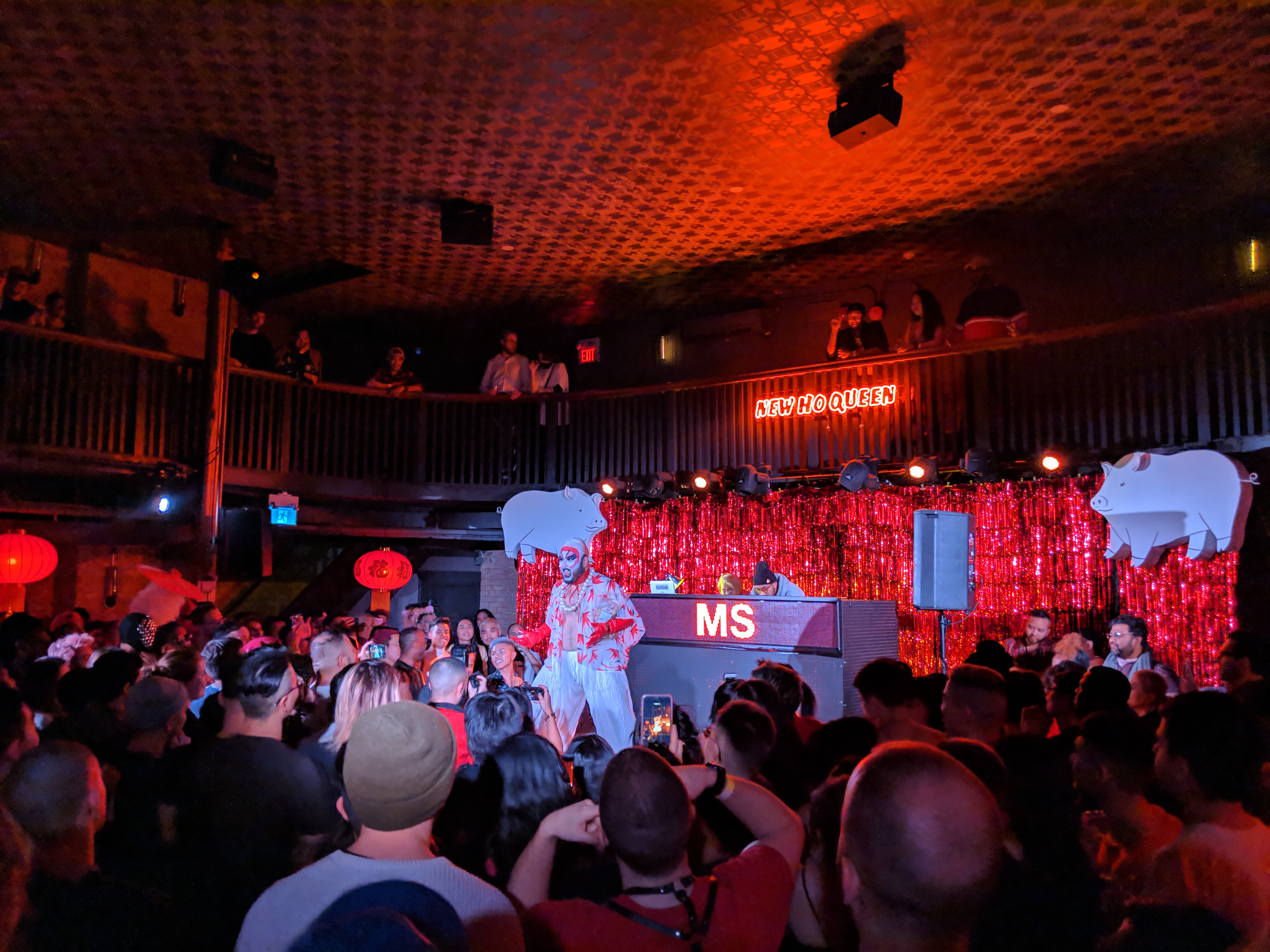 Ms. Nooky Galore's theatrical performance during NHQ's Lunar New Year party, Year of the Pig. Feb. 8, 2019 at Longboat Hall.
Trigger warning, this is about a party. Remember those? Large stuffy gatherings with hundreds of people sweating on the dancefloor, queued for the toilet, and pressed against the bar - desperate for their libation of choice. After half a year of pandemic life, all we have are memories of our favourite nights going out and being careless with our nearest and queerest friends. Most of these memories have congealed, and trying to pinpoint a particular party can be challenging.

One party that remains distinct from the rest is New Ho Queen (NHQ). Spotlighting talent within drag, dance, fashion, photography, and fine arts, NHQ celebrates the best that our queer Asian community has to offer. The art collective is a standout in Toronto's nightlife scene, and continues to remain relevant two years after its debut. And rightfully so. This is the collective that managed to bring us food-centric theatrics from Ms. Nooky Galore, distinctive art installations from Ness Lee, and an epic block party during Toronto Pride featuring an electric set of performances from the season two finalists of Drag Race Thailand.
"This is more than a party - it's a beautiful example of how marginalized communities can strengthen in numbers and take control of their narrative."
Sze-Yang Ade-Lam's performance at NHQ's first party, which challenged the idea that only drag queens belong on stage at queer events. May 11, 2018 at the Round.
While it may not be the first of its kind, New Ho Queen is undeniably Toronto's largest and most successful party for queer Asians, by queer Asians. Its meteoric rise in popularity is unprecedented, showcasing a true need for representation of our community. This is more than a party - it's a beautiful example of how marginalized communities can strengthen in numbers and take control of their narrative. It is through their bold events, captivating performers and prominent social media presences where NHQ has been successful in empowering its community to show up and take up space.

It was the end of April 2018 when I received an Instagram follow from @newhoqueen. I instantly clocked its cheeky name paying homage to a popular late-night Chinese restaurant in Toronto called New Ho King. Having their chow mein be a personal favourite of mine, I was instantly intrigued. The account was in its infancy, and their feed had a slim offering of six Terry Richardson-esque photos featuring young, diverse, stylish Asians - all with the hashtags #queerasians #slaysians #asianloveparty.

After an exchange of DMs, I was told that "New Ho Queen is [Armand] and John… but really it's everyone!" Armand Digdoyo is very widely known in Toronto as a fantastic DJ and co-founders of Yohomo, an online community featuring queer arts, culture and nightlife. I had known Armand for a long time, dating back to the days when he was my manager at American Apparel. John Thai is a multidisciplinary creative with chops in design, brand development and art direction. After our DMs, I knew this would be a party I could not miss; I was already enamoured by the founders and I was enthralled with the slew of artistic portraits posed on their feed, featuring members of their collective.

With every upcoming NHQ event comes a magnificently curated photo series featuring the performers, DJs and hosts involved with the party. Not only does this generate hype, but it also celebrates our Asian community in a way that isn't often seen. It's done artfully, with taste, and, more importantly, through the eyes of an Asian photographer. It's art that those in the community can resonate and engage with.
Powerful Asian iconography set each event apart, celebrating Asian culture through traditional lanterns, papier-mâché Squid Brand fish sauce, and the iconic Pockey box. May 11, 2018 at the Round.
The first NHQ party took place on a Friday in May 2018, a time of year when we Canadians collectively exit hibernation and shed our winter sorrows. The venue for their first event was a popular spot called the Round, home to some of Toronto's most popular queer events. I was no stranger to the space; I could probably describe every inch of it.

However, things felt different that night. There was a buzzing sensation; this was somewhere new and exciting. To witness a queer party consisting almost entirely of Asian people was rare. It felt as if I had stumbled on the city's biggest secret. NHQ had reimagined the space with Asian motifs - huge red lanterns swung overhead, and an instantly iconic red neon sign featuring New Ho Queen's logo highlighted the dance floor. The decor alone would generate Instagram FOMO for weeks.

Everything was right: the music, the performances, the venue. Little Louie Vega's club banger classic "Deep Inside" pulsed through the venue, in beat with the beautiful people who showed up that night. No one was cliquey, nor did anyone try to pass off lazy bobbing as dancing. The people were vibrantly moving, with no fear or pretension. Together, we marveled over Sze-Yang Ade-Lam's charged performance of Kanye West's "Fade" sporting only a pair of red briefs and heels.
Needless to say, the first New Ho Queen garnered enough buzz to distinguish itself in Toronto's saturated nightlife scene. But these qualities of a party are rather superficial. Partygoers are typically quick to put something on a pedestal, just to knock it down when a newer, fresher event comes along.

My dear friend Vernon, who has been a NHQ poster child since the beginning, recalls that, "up until that first night, I'd never really felt more secure in who I was as a queer Asian in a party space. We were never the ones being celebrated or running the show or the ones on stage, so to be at an event by Asians for Asians - and for it to actually be so, so good - was like nothing I'd ever experienced before. Many of us left that night realizing that it gave us something we didn't know we were looking for."
"My athleticism, wits and beauty were always discounted by the double standards placed on those who are not white, straight-acting, cis males. Nothing stings more than being told, You're hot for an Asian."
Drag Race Thailand's season two finalists lighting up Gould St. on the final day of Toronto Pride, 2019. From left to right: Kandy Zyanide, Angele Anang, Kana Warrior. June 23, 2019 at Toronto Pride's South Stage on Gould St.
What was most significant about the first New Ho Queen, which set the precedent for each iteration to follow, was the collective's mission to foster 'Asian love.' While seemingly simple, this mantra was profound to many of us who were tired of navigating white spaces; we were finally in a space where we could unite. Amongst strangers was a shared sentiment - as if we had known each other for years. Bonds were instantly formed on the dance floor, and transcended into daily life.

I am a gay male whose father is from Hong Kong. I perform drag and am an active member of the queer community. While I have white heritage from my mother's side, I am typically identified as someone who is 'exotic' by the average Canadian. I speak from my experiences when I say that my Asianess has never been appreciated in the gay scene. Constantly faced with the ubiquitous Grindr headline prohibiting any form of femininity, it sometimes felt as though I was not seen in the same light as my peers. My athleticism, wits and beauty were always discounted by the double standards placed on those who are not white, straight-acting, cis males. Nothing stings more than being told, "You're hot for an Asian."

To be in a space where I was not singled out as a minority was refreshing. To have the words 'Asian love' projected across the wall was cathartic. That night, I was suddenly given permission to drop the insecurities that loomed over me in my early 20s and embrace my Asianess and the Asianess of those around me.

After the first New Ho Queen party, Toronto's queer Asian scene was transformed. Suddenly, there was a place that was ours - and together we could celebrate everything that makes us unique, creative, and beautiful. NHQ provided us with a platform where we could be visible on a larger scale; those from other cultures could respect us without inserting themselves or taking up space. The event's founders and community have never been shy about having these discussions, and have even made poignant disclaimers before their large Lunar New Year events reminding everyone that: "this is a rare and reverent space for Queen Asians, QPOC and their allies - not a costume party."
"This is a rare and reverent space for Queen Asians, QPOC and their allies - not a costume party."
Fast-forward to the present day where New Ho Queen has hosted 12 events across the city and two virtual parties via Zoom during lockdown. The collective has continued to awe us with their brilliant marketing, while transforming spaces in efforts to remain visible and spread of love and respect. I believe that NHQ has remained relevant because it has created a network of genuine connections that continue to bring queer Asians in Toronto and across Canada closer together. Since COVID-19, the collective has supplemented the closure of clubs and bars with Zoom parties - first via Club Quarantine and then through their own offering. New Ho Queen continues into this 'new normal' as a shared space of visibility and inclusion that our community cherishes so dearly.

I have a strong suspicion that when we get through this pandemic and are finally able to reunite, we will all feel the magical energy that was so evident on that Friday in May 2018. We as humans are adaptable. We as minorities are resilient. Together, we will continue to see each other with love and respect in this time of uncertainty.
ABOUT THE AUTHOR
---
Sissy Nein has been a Toronto-based drag performer since 2014. What might seem as a cheeky play on 69 is actually a deeper commentary on the no-femmes self-hatred that exists in the Gay community. With each performance is an opportunity to reclaim being called sissy.