Weaving Timelines: The Seeds Sow Deeper Than We Know
Words and photos by Marshall Hoang
December 3rd, 2020
This body of portraits explores the interconnections of our roots through memories of distant lands, of our ancestral family ties, stories and secrets of faraway lands, tales of strength and sacrifices. The portraits are connected to altarpieces of something from their roots. The history of our family experiences defines us more than we can imagine. Finding connections from still moments encapsulated in time brings us a little closer to our roots.

The act of sewing together two photographs with red thread bridges together time. The stories and experiences of our family are weaved into ours in many ways. These connections could have indirectly affected where we are today because as time carries on, our stories remain interconnected. The diptychs portray some of these facets.

1. An altar in Marshall Hoang's family home in Vietnam
2. Bui Benson next to a photograph of his father who fought in the Vietnam War
As for Marshall Hoang, she feels deeply towards the relatives that she never got to meet; however, she still feels connected to them as they influenced her family. Even though some family members have passed away, they are not forgotten and the incense we burned on their altar is a way to remember them. The relationship of siblings is a bond Vanessa Wan and her sister, Karen Wan share with their mother and her relationships with her siblings. These relationships are immeasurable as our siblings pave through life with us. Le Lin has many places he would call home and has distant memories of Chaozhou, a homeland he once lived in. Bui Benson sees a reflection of his father in himself; and feels the weight of his father's past of fighting in the Vietnam War but he also feels the courage and strength his father embodies. Sometimes, there are things we see and hear that stick with us forever; Brandon Wong has memories of his country's folklore tale of the Pieter Both Mountains in Mauritius, of a boy who saw some fairies in the forest and promised to keep it a secret but did not; so he was turned to stone for not keeping his promise.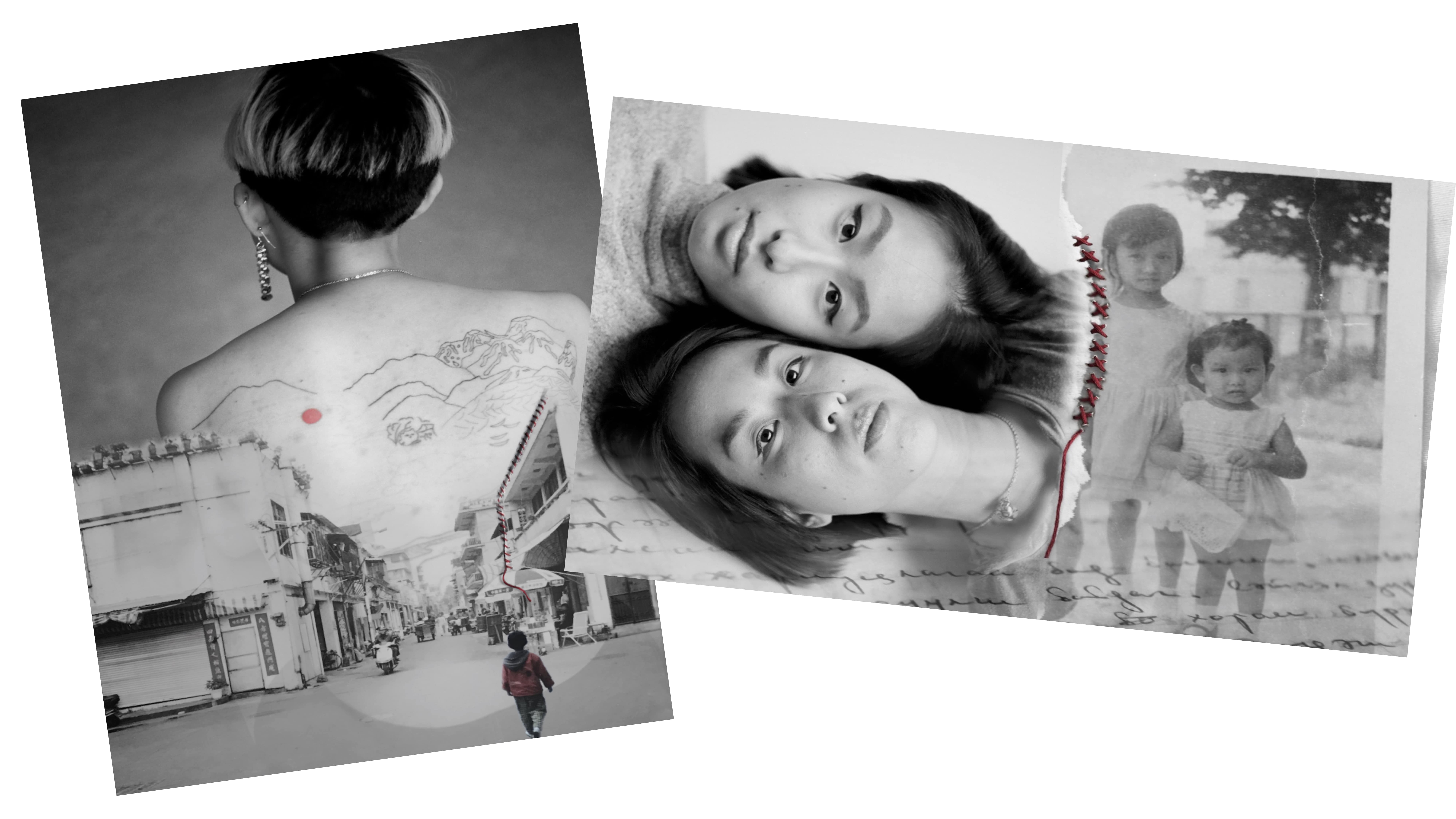 3. Le Lin walking in his former hometown, Chaozhou, China
4. Vanessa Wan and her sister Karen Wan alongside a photo of their mother and aunt
Tales like these live on and are shared through generations to teach us all something valuable. We all have one common thread that brings together many second-generation Asian Canadians; the great strides and sacrifices our parents made to give us a better future. They had let go of many familiar faces and scenery of familiar places. Braved the vast unknown, with nothing but a few belongings and not knowing what laid ahead of them in order to give us better opportunities. By gathering moments of the past we can weave together the interconnections. However, there is still a long journey of self-discovery for Westerners of Asian descent and many more threads to connect.

5. Brandon Wong Kee Yan alongside his distant memory Pieter Both Mountain in Mauritius
ABOUT THE ARTIST

---
Marshall Hoang is a visual artist in Montreal, capturing her vision through a lens and using her visual language as her form of expression by exploring a variety of art mediums.