Interview
TO HARNESS YOUR INNER LIGHT: UP CLOSE WITH LIA


An intimate conversation with singer, songwriter, producer, LIA


By Viet Tran
Photos by Xavier Cyr
October 7th, 2020



Photography, Art Direction, Hair and Make-Up by Xavier Cyr
Location: Pang Pang Karaoke
Although it's LIA's first time inside a karaoke box, she looks unfazed by the multicoloured light specks sprayed onto her face—lasers deflected from a suspended central disco ball overlooking the obscure private room. Muted Korean pop videos loop on the wall-mounted karaoke television, distracting us from the awkward – yet comfortable – tan leather couches that decorate the dimly lit space. We spend the next sixty minutes on a variety of topics, including the inspiration behind her latest EP, Vasilia.

Over a seering pot of green tea, we contemplate the future of the internet as we talk about the Behind My Eyes video, in which she is featured alongside the Montreal-based music producer Apashe. In the futuristic video, LIA sings about keeping quiet in order to protect another's pride. She appears dressed in all white as multiple video projections on billboards displayed above Tokyo's neon-lit towers, but her real body rests on a blue felt sofa, this time her white outfit matches the emptiness of the room.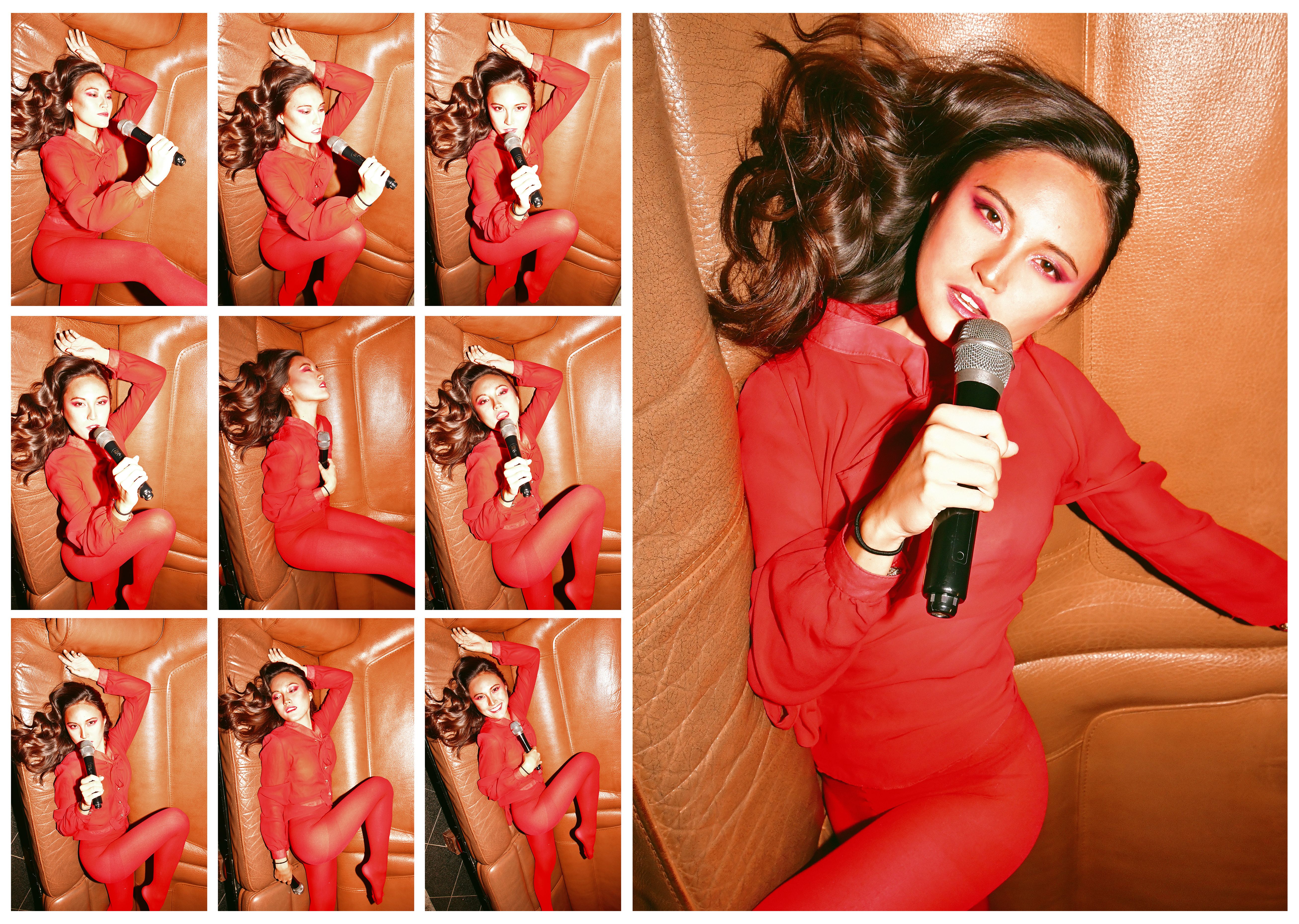 Viet: Can you tell us more about the idea behind the busy cinematic piece?
LIA: When Adrian Villagomez approached me with the idea for the video, he wanted to explore loneliness, the contrast between the virtual world and the real world, and to make a statement about how people can embody an alternative self in a digital realm–a result of people having moved their lives online out of necessity. What we see in the projection is a version of what we could be in the future.
V: Indeed, people have been migrating to the virtual world, lately.
L: A lot of people our age have been gradually moving towards freelance work from homw. They've been taking advantage of this kind of lifestyle even before COVID-19 and now it has become the standard.
V: Are you saying that the image that people put out on the internet is in any way a representation of how they want to see themselves in the future?

L: The person you present tends to be the person you become over time. There is a journal article written by Amy Schlosser that was recently published; a literature review about self-presentation versus self-disclosure on social media. She was looking at how the person we present online, even if we act differently, ends up converging with our true selves. The relationship between self-presentation and self-disclosure isn't mutually exclusive–it was observed before the advent of social media and repeats itself there too. People are taking sexualized pictures or creating caricatured versions of themselves online, it's in some way incorporated into their subconscious. You see some people writing in all caps and posting a bunch of stuff when in real life they are quite timid. It's easier for them to try things out online before trying them out in real life.


V: Do you see that as a good thing?

L: Mmm….social media is performative and I think we end up doing a lot of things that we wouldn't do in person. What we choose to do on social media is not really candid, so we end up overthinking, editing how we would like to see ourselves, whereas, in person, you have no choice but to make mistakes. It's part of being human.
V: There's a high standard that we set for ourselves on social media. I feel like we need to continue learning how to be spontaneous and authentic in the "real" world. Otherwise, we never learn how to make those mistakes through real-life experiences.

L: And learning from dealing with different personalities and different situations.

The songstress-producer learned to navigate the social world feeling like the odd one out on both sides of her family, "too Asian for my White family, and too White for my Asian family", she says, making for a sometimes conflicting sense of self, growing up in the suburbs of Maryland. Although she went through highschool living the classic American experience – being actively involved in the student committee, cheering for homecoming kings and queens – she was always aware of how her mixed Japanese-American heritage played out in her immediate environment. The repercussions of the 1940s internment of Japanese-Americans were felt inside her household.

L: After WWII, my grandparents didn't want to maintain a strong attachment to the Japanese culture so it wasn't passed down to my dad and then barely to me. So anything I do learn about Japan, I cherish. And I hold onto the details, hoping that one day I'm going to do a pilgrimage-esque trip to Hiroshima where my family is from and find the archives of who they were in the 1800s and why they took the big risk of working on the sugar cane plants on Oahu and Maui and be in a completely foreign land. I always feel so proud of being Japanese, yet I feel so far away from my heritage. I am always trying to find ways to get closer to it.


V: Yet you are inherently Japanese-American in your own way, like how you pick up on things in your father's communication style without it being explicitly said (laughs).

L: Definitely with regards to things that revolve around shame, like shame in asking for help, in displaying emotions at times, in disappointing your family, shame in mismanaging your money (laughs), all these things that ring so true in Asian households.


"In the fairytale, if the men try to trap the light of these wood nymph-like creatures, they are transformed into moths. Then, they're attracted to their light for their whole life."
V: I want to talk about your latest EP, Vasilia. The name, itself, is based on the Russian fairytale, Vasilisa.

L: Yes, I made it more me with a twist in the name, Vasilia. Vasilisa was presented with a challenge to get light from a woods witch named Baba Yaga and she had to pass these tests. She eventually succeeds with dawn, day and night by her side. Because the witch saw that the universe was on her side, she decided not to eat her and instead gave her the light. I had this old 90s computer game called Baba Yaga And The Magic Geese and I remember how I had always appreciated the aesthetic of Slavic folk tales. I eventually fell upon Uldus Bakhtiozina who is a photographer, stylist, and film director now. I loved how dark and beautiful her style was and I wanted to draw inspiration from her. I remember going through a rough time, being messy and drinking too much. I was dating people who were emotionally unavailable. During this time, I was making these demos and writing these lyrics, so I felt like the Vasilisa fairy tale resonated with where I was at in my emotional maturity. The album itself is about following my path through resilience.


V: We live in a time in which we are very much aware of mental health issues, but we are not as well-versed in cultivating resilience. What does this word mean to you?

L: It means persevering against all odds. It means feeling sad and getting out of it. It means initially accepting love from people who are not good for you, and then putting a stop to it and being like "I love myself too much for this''. Another part of resilience is also like you're collecting mechanisms along the way so that you can be stronger after the supposed struggle. I wanted to talk about femininity in my track Kissel Shore, it's a hymn for the land of women. It's like a promised land, a magic land, in Slavic folk tale. So I imagined it as a land where you can't fuck with these women or else they'll turn you into a moth and they'll trap you for life. In the fairytale, if the men try to trap the light of these wood nymph-like creatures, they are transformed into moths. Then, they're attracted to their light for their whole life. So I wanted to talk about resilience as a woman, in my mental health, and in my heart.




LIA's sultry voice hums over bell sounds and shuffling noises – it smoothly envelops the listener and accompanies them through the sonic landscape of her record. Her body of work evokes cinematic imagery and incorporates elements of trip-hop. "If I had to sum it up into one phrase, it would be like experimental pop, but I don't feel like this is right. I hate how, when you have to pitch yourself, you have to boil yourself down to two words because you miss so many nuances. Like I do have acoustic songs, I do have a drum and bass song. I have breakbeats. It's mostly electronic, though."

But she didn't always produce electronic music. She recalls coming to Montreal at 18 years old to study in the Economics and the Earth's Environment program at McGill University. She did not feel enthusiastic about electronic music then, but that was before she started dabbling into the world of Soundcloud. This was also around the time when she decided to leave her debauched university parties aside to focus on music and projects that nourished her creative spirit after having met with the producers that would later introduce her to sound engineering, the kind of work that can "turn paper ripping into a cool sound", she says.

She does, however, maintain her close relationship with the environment in her upcoming work, which comes naturally to her having grown up in an Earth-conscious household.


L: Since I was a baby, I had an Earth's Day poster hanging in my room. My parents always bought organic and took me on a bunch of hikes, giving me a true appreciation for nature. So, it felt natural when I was trying to decide what career I wanted to go down to explore environmental science. [...] I'm working on an album right now. It's like what Mother Earth would say if she could speak. So it's examining our relationship as humans with our natural environment and the earth. And it's pretty sad in terms of lyrics. It's about pain and betrayal. It's also about mothering and nurturing.


At her request, I play the dance remixes of AK Akemi Kakihara, the Japanese pop singer who she met at Key & Needles Studios in Brooklyn, where she happened to be while visiting her friend Spencer, the studio owner. She remembers being struck by the older Japanese pop artist's ageless beauty as she walked into the studio, looking for a place to record. As the house music breaks through the silence and progresses, the room feels like it takes on a shade of gold. AK's sensual voice repeats "Say that you love me" over percussions in the background. LIA does not waste time for the photoshoot. Wearing all red, a reliable colour of hers, she throws herself onto a leather couch, requiring little direction. Although it's LIA's first time in a karaoke box, she exudes a calm confidence, embodying a femininity that is both free and in control.

Viet Tran is the editor-in-chief for Sticky Rice Magazine and a senior resident psychiatrist at McGill University looking to deconstruct the source of human suffering and the healing power of human and spiritual connections.
Xavier Cyr is a Montreal based photographer and art director working closely with artists to create colourful and conceptual imagery. Skilled in singing while shooting, Xavier is a double threat.