Interview
THE WISDOM OF STYLE: A MIX OF COLOURS, PRINTS AND ERAS
A conversation with the creators of Chinatown Pretty
By Yang Shi
September 30th, 2020
All images are courtesy of Chinatown Pretty.
We learn a lot about a person by the clothes they choose to wear. The way they mix-and-match colours and patterns, layer fabrics, and carefully curate their ensemble to the last detail. Without a doubt, putting the perfect outfit together is an art. For the pòh pohs (grandmas) and gùng gungs (grandpas) of San Francisco's Chinatown, each garment contains decades of memories and reveals a lifetime of resourcefulness and creativity. Rooted in pragmatism, yet tinged with whimsy, the kaleidoscope of handmade and vintage pieces act as a testimony to their personal and shared immigrant stories—often marked by times of hardship and segregation. From a historical standpoint, the distinct fashion carries a collective symbol of resistance against the steadfast gentrification of surrounding neighbourhoods.

Similar to these senior residents, Chinatown has become an adopted home to Valerie Luu and Andria Lo, the founders of Chinatown Pretty. Since 2015, the writer and photographer respectively have been roaming the streets of SF Chinatown documenting some of the most eclectic and vibrant street styles they have ever encountered. For Luu and Lo, who are Asian-American, this multigenerational project is an opportunity to learn and reconnect with their heritage and their own families. It also serves as a reminder to embrace the small joys of life in its most earnest expression. Five years later, Luu and Lo are finally ready to launch their first book chronicling the styles and pearls of wisdom of senior SF Chinatown citizens, and many other major cities across North America.
Sui Chun Suen.

Dorothy Quock.
01/ Where did the idea and name Chinatown Pretty originate from? Who was the first senior you've featured?
Valerie:
The idea came from our shared love for this distinct aesthetic. Andria and I would spend time in Chinatown, just hanging out, eating dim sum and we noticed the grandmas would wear colours and multiple layers. We were really curious where they got their clothes, how they were putting the outfits together in such an original way. We started just by writing an article about it - we went around interviewing seniors. The first person I noticed was a woman named
Man Ta
, who we ended up meeting and who's on the cover of our book now! Whenever I was sitting at this cafe, I would see her get off of this bus. I would see her shoes first and she was wearing these 80's speckled jade colour sneakers (Keds shoes). I would be so amazed, thinking this is an outfit you would see at Urban Outfitters but it's worn by a woman in her late 70's. And then, when Andria and I went out for the first time shooting for the articles, we met her and she gradually became our poster senior.
02/ What's the standard process for photographing and interviewing one of your subjects? You mentioned in a few posts that sometimes it takes several attempts to get someone's permission. Are there any cultural barriers? And how has the pandemic affected your project recently?
Andria:
So our standard process is, we stroll around Chinatown, maybe a few hours at a time, and we work with a translator who typically speaks Cantonese. We just walk around until a senior catches our eyes [laughing]. We will say hello and try to strike up a conversation, ask them about a specific piece. If they have time, we will ask them more about their backstory, if they are willing to chat more about their daily life and tell us more about their immigration story, and what they did before retirement. So, there are quite a few barriers, you probably saw that we have a pretty high rejection rate, maybe 9 out of 10 people turn us down to be ultimately photographed. We haven't been able to shoot during the pandemic - we want to be sensitive to seniors who are a vulnerable demographic. People are staying indoors, and Chinatown is a little bit slower right now, so we haven't been able to continue shooting.
03/ Having done this for a while now, have the people in the area started to recognize you? Or have you noticed some of the neighbourhood regulars actually dressing up in order to catch your attention?
V:
I would say that we've done it for so many years now that we would start to recognize certain people. And some of the people we've photographed have become acquaintances or friends. Like the
Chews
. I ran into Buck
Chew
on the streets and he would invite us for hot water and fruits at his apartment. And we used to see Man Ta around the neighbourhood grocery shopping. We would hold hands because we couldn't speak each other's language and we would only communicate through smiles. She showed a lot of gratitude and appreciation towards our brief, but significant interactions. And some people dress so cool and never have agreed to the project so we call them our unicorns, people we appreciate but haven't been able to capture yet through a photo or a story.
Buck Chew.

04/ Do you go to Chinatown every day? What's your routine like?
V:
I think during the height of the project we were going a few times a month, three hours at a time. I am actually in Chinatown right now, just 'cause I really miss it [laughing].
05/ What's the prime hour for senior watching?
V:
The prime hour is 9 am to noon. So you catch people during their grocery shopping and exercise.
06/ Chinatown Pretty is all about how to age gracefully while staying stylish. Do you notice any style trends among Chinatown seniors? What's this season's hottest trend? Who are the trendsetters and style icons?


A:
Definitely, some trends we notice in Chinatown are -- I don't think it's seasonally based, it tends to be the "evergreen" style in Chinatown we first became enamoured with. We see a lot of pattern mixing, like plaid with floral, some bold colours with a calico print and all this in one outfit. There's a lot of mixing of eras, maybe a coat they brought over with them from Hong Kong in the '80s with a new cap they bought in Chinatown mixed with a hand-knit sweater from the '50s. We love this kind of mix-and-match style; it's really quite powered by functionality and practicality. They retain a lot of their clothes over the decades and keep them in great condition. We also noticed a lot of reusing of the iconic Chinatown "
Thank You
" Bag as a purse or for grocery shopping. Definitely sun protection drives a lot of fashion. A lot of white brimmed hats to shield from the sun and maybe sometimes gloves. In terms of colours, there's a lot of reds, pinks, and purples, which is a cultural trend.
V:
To add to that, we are all wearing masks now, so this is an accessory that's often handmade. The seniors use a lot of cool fabrics. I saw a tropical-themed one the other day.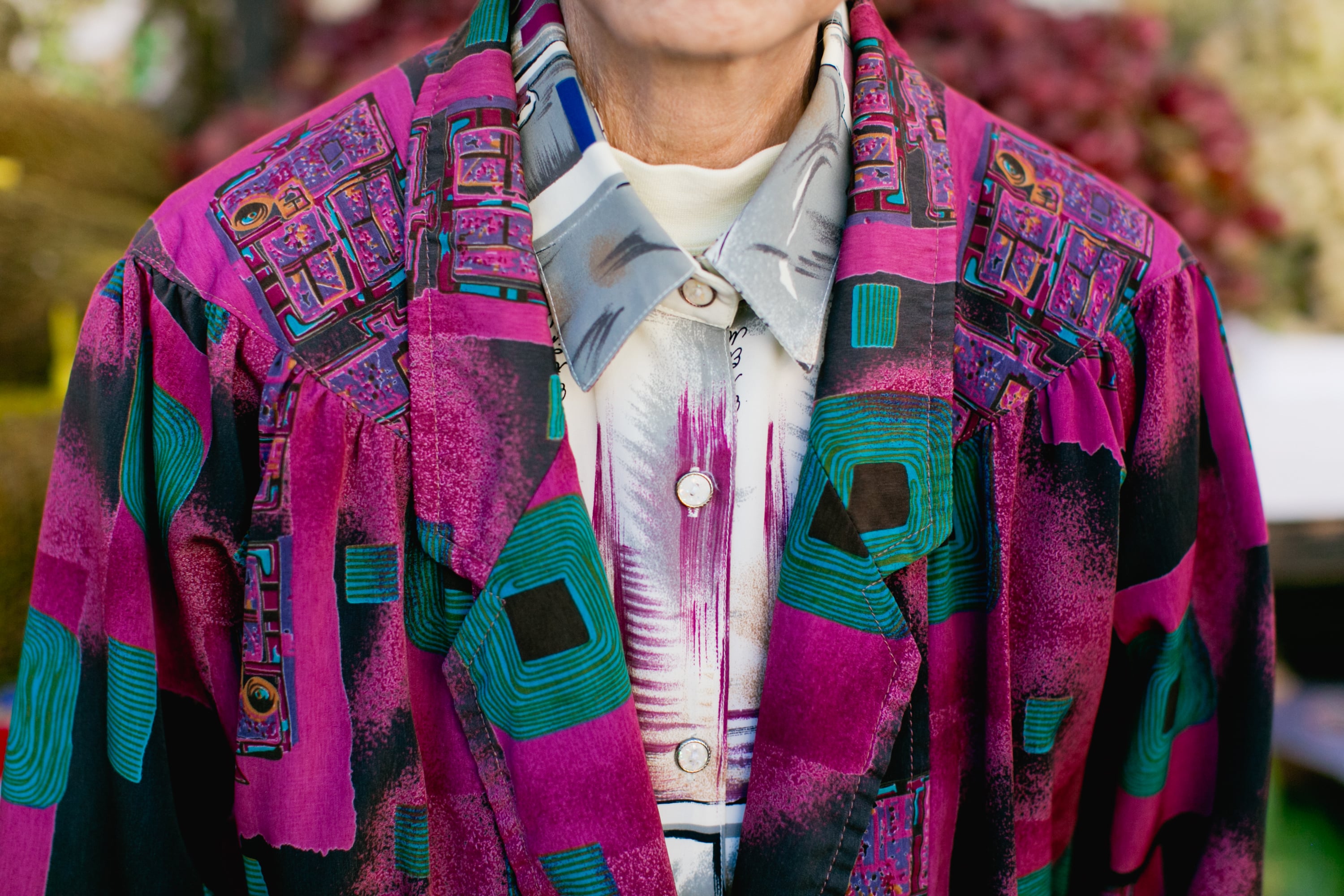 Feng Linh Feng.

07/ And a style you aspire to achieve in your elderly years?

A: The project definitely affected how I get dressed in the morning. I don't have to think so hard about it anymore. I think that's the beauty of how a lot of the seniors are getting dressed. Some do coordinate their outfits, but most of them are not dressing with the intention of people looking at them. It's quite freeing actually.

"I think just hearing collectively from these stories of immigration and talking to many seniors, they really do reflect my family immigration story as well."
08/ Without a doubt, a lifetime of experience telling stories leads to incredible storytelling. From all the tales you've heard, what's the most heartwarming one?

V: There's a woman named Run, Ms. Yang. She lives in an affordable housing building for seniors. She has this silver bob that she cut herself and an oversize blazer. We sat down in her apartment to interview her with her daughter, she told us she had Alzheimer and can't remember her past too much. But she says that she's' healthy and her kids and grandkids are also healthy and good. I really liked her attitude, letting go of control and being happy with what she has.

A: Ms. Yang is a great story. I think just hearing collectively from these stories of immigration and talking to many seniors, they really do reflect my family immigration story as well. Like many other seniors, my grandmother worked as a seamstress in a factory when she came here. They couldn't get a job anywhere else. That kind of resourcefulness really carried with their own personal story. It kinda hit home with me.
Angela Chen.
Guizhi Li.
09/ What's one piece of wisdom from your encounters that has made a significant impact on your personal outlook?

V: Sometimes, the seniors would tell us "I feel so lucky to have met you" and I think what they bring are joy and serendipitous human encounters. It goes the same way for us. Every connection is so special, even if it's for three minutes on the streets of Chinatown. It's a reminder for me to appreciate seniors and people in general. And how much I miss that during the quarantine.

"I feel very close to Chinese culture and very close to Chinatown through this project. It solidified my love for Chinatown, where I spend my time, where I feel at home, it's a place I cherish and want to celebrate and protect."
10/ As second-generation Asian Americans, in what ways has Chinatown Pretty brought insight to your own cultural identity?

V: For me, it's like what Andria was saying earlier, just connecting to family history and with my grandma generation, and even connecting with my grandma more. I interviewed my step-grandma from Hong Kong and my grandma from Vietnam. I am Vietnamese-American and my family immigrated over here. There are some shared experiences between Chinese and Vietnamese immigration. I feel very close to Chinese culture and very close to Chinatown through this project. It solidified my love for Chinatown, where I spend my time, where I feel at home, it's a place I cherish and want to celebrate and protect.

A: My mom was born in Boston Chinatown. My dad is from Hong Kong. This project kinda grounds how I think how they were raised. It answered a lot of my questions about their cultural upbringing. That's one reason why this project started for me, this curiosity about Chinatown, as a neighbourhood with so much character and history.


11/ What do you think Chinatowns around North America represent for the senior Asian community?



A: I think Chinatown has been historically this landing pad for immigrants and has become this community they can rely on. Not knowing the language or anyone and not having a lot of money. They can connect with folks from their region, like a support system for new arrivals. And it continues to be so, especially in San Francisco, where it's very dense. A lot of seniors live here and a lot of services are available for them.
12/ What are the differences across Chinatowns? In terms of style and stories in places like SF, LA, NYC, Chicago & Vancouver? Is there somewhere you would like to visit next?
A: Yeah, I think SF has been our favourite, it's where we started but it's also such a vibrant Chinatown. We found that in Chicago, the Midwest and Vancouver, folks are really warm. We had a higher success rate for interviewing people. Maybe it's because they are smaller cities. In the midwest in Canada, people are less jaded and more willing to open up to us. New York was tough, the styles tended to drift to darker clothing as you would think of a broader New Yorker city look, dark clothes, and sneakers. We also had a harder time talking to people over there.
13/
Have you shown your project to your grandparents? What do they think of it?
V:
They both were interviewed for it and featured in our book. Because it's really a love letter to them and all the grandmas and grandpas of Chinatown. One of my grandmas passed away during the making of this book and it felt really special to be able to use Andrea's portrait of her. It really captured her beauty and essence. And that's like how she will be remembered, at 86, modelling for us with all these outfits she brought from Hong Kong. When she was sick, I would read her all the different comments people have written on Instagram and I would say "Hey, 2000 people think you are beautiful too, it's not just me" [laughing].
A:
None of my grandparents are still with us so I haven't been able to share this project with them.
14/ What's your earliest memory of your local Chinatown?
V:
I don't really have one, because I didn't grow up in the city. I was lucky enough to live here in my twenties and that's really when I fell in love with the neighbourhood. It feels like you are somewhere else with its own architecture and population. There's something visually and spiritually stimulating about this place.
A:
I also didn't grow up around Chinatowns, but my first impression was probably visiting San Francisco Chinatown when I was young and seeing the more touristy side of it. Once you live there, you realize it's a real neighbourhood.
V:
I guess for a lot of people it's the place where it reminds you the most of your family.
Chinatown Pretty Book Cover
15/ Congratulations on your upcoming book! How did the idea of compiling all your work into print form first come about? What kind of exclusive content can we expect from it?
A: There are so many stories that you won't find on our Instagram or blog. There's a total of 113 profiles that we did. A lot of the stories are longer and more in-depth. People we met up for different times and went to their apartment.

V: For me, there's a big difference between how I read and consume information. A book allows me to sit on a couch and slowly observes the details. It's just a different experience, especially during a time when I can't see my grandparents as much. It makes me feel close to them and makes forward to the day when Andrea and I can approach seniors again [laughing].
Valerie and Andria by Phoebe Wong.
Chinatown Pretty: Fashion and Wisdom from Chinatown's Most Stylish Seniors is out now! Get your copy here.
ABOUT THE FOUNDERS OF CHINATOWN PRETTY
---
Based in San Francisco, Chinatown Pretty was created by photographer Andria Lo and writer Valerie Luu, two friends who love dim sum and chasing after pretty poh pohs (grandmas).
Yang Shi is a multidisciplinary creative creative and lifestyle editor at Sticky Rice Magazine. Born in China and raised in Montreal, she loves food, rock'n roll and a good meme.