Spotlight On
THE TOKYO AESTHETIC: DISPATCHES FROM THE STREETS OF FASHION WEEK



By Jean-Guillaume Bastin




Sakura and Naka mixing prints in Harajuku
I first visited Japan in 2014 and was stunned by the eclectic streetwear. Between takoyakis or taiyakis, I roamed the streets and covered the fashion weeks at the end of October. I decided to move to Japan in 2016 to capture the fashionable spirit of the young, incredibly interesting individuals who treated the pavement like a runway. While I returned to Montreal after my year-long visa expired, the trip made a lasting impression on me, as well as my photographic style.

I went back in 2019 to work on a personal project and couldn't help but sync up my trip with October Fashion Week. Now, as this year's (digital) Fashion Week has come and gone, I can't help but reminisce about the ultra-cool people I met there and the personal styles that continue to inspire me.

One of my biggest takeaways from past trips is that Japanese thrift culture is on another level entirely. I love thrifting in Tokyo. You can find old "grails" and amazing vintage finds. Plus, it's more sustainable. Areas like Shimokitazawa are full of vintage stores: military and pre '80s designers. Koenji for punk and metal. Shibuya or Shinjuku offer more recent designers. That's why the streets are a mix of luxury items and well-worn vintage. I've seen jeans resown as a coat, denim over double-breasted jackets, and expertly-mixed patterns that Japanese designers - like Sacai, Comme des Garcons, and Needles - have mastered.

Here are a few pictures of the young trailblazers I met: from students and actors to art directors and hairstylists. You can find any style in Tokyo. And that's why it's a must-visit city for anyone who appreciates fashion.


Group of young Japanese enjoying the fashion week in Shibuya
Yuka Manami, a Japanese model with a vintage Prada bag in Omotesando
Shota having fun in Harajuku
Sakura and Naka mixing prints in Harajuku
Nanami wearing a vintage leather jacket in Shibuya
Erino wearing a DIY leather jacket and striped pants in Shibuya
Erika wearing a double-breasted jacket and geometrical sunglasses in Shibuya
Yuna with a denim jacket over a suit jacket in Shibuya
Sakura wearing a beautiful makeup in Omotesando
Young japanese girl daring colours and prints in Shibuya
Akira with a vintage floral dress in Shibuya
Toshio displaying his full body tattoo in Harajuku
Young Japanese with layers of down puffers in Shibuya
Ayumi, a Japanese model, in Omotesando
A duo of Japanese models in the streets of Harajuku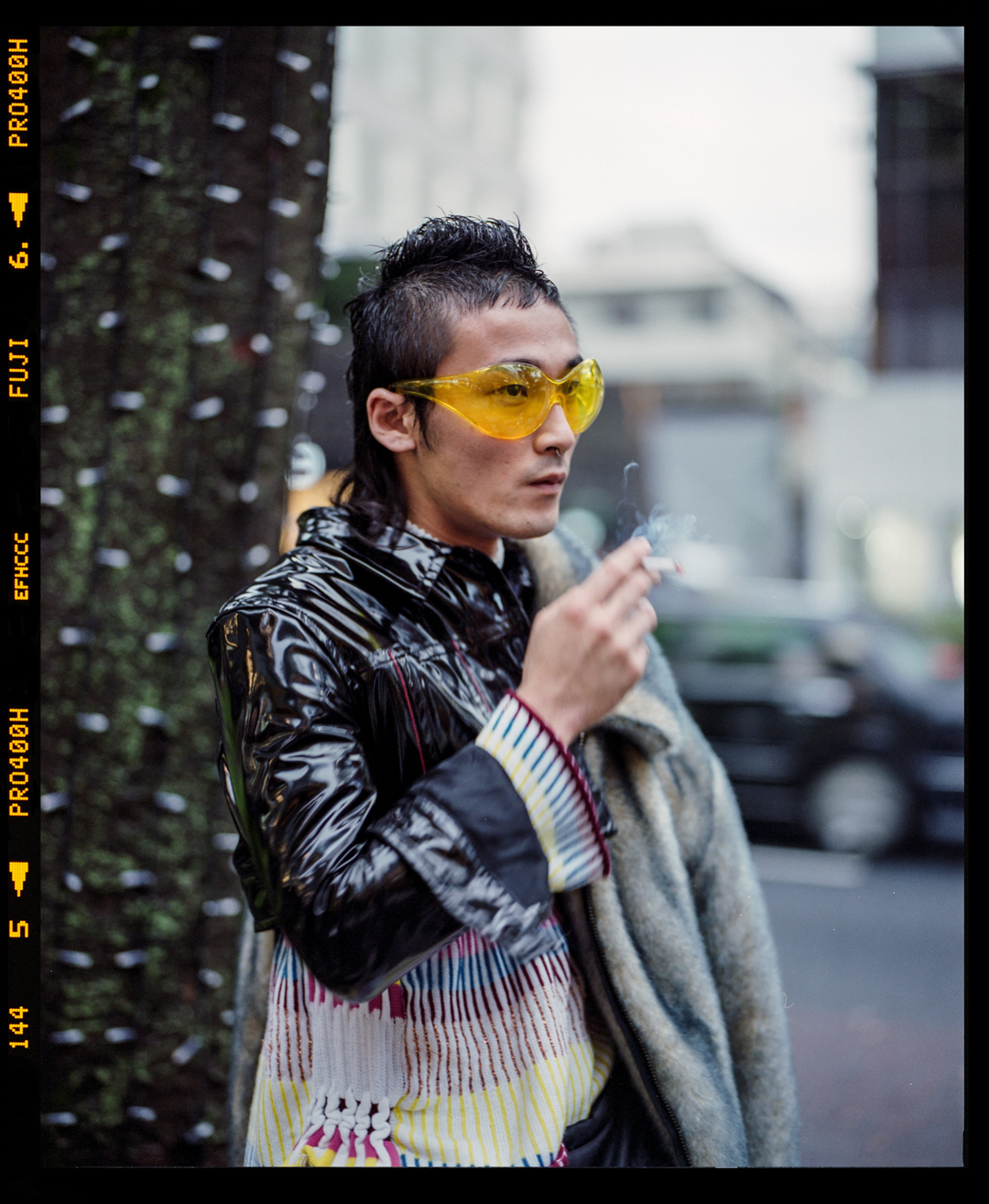 A young Japanese stylist with yellow-tinted glasses and PVC jacket in Omotesando
Jean-Guillaume Bastin is a photographer hailing from Montreal. He spent a year in Tokyo working on various photo projects and spent his leisure time in the streets taking spontaneous portraits of the youth. He's also part of a creative duo called JG+SHI.