The Sixth Love Language
By Linh S. Nguyễn
Illustrations by Sean C. Kershaw
November 26th, 2020




My mother taught me to love in the language of crab noodle soups, deep-fried spring rolls, and steaming pots full of phở bò. I could recognize her bún riêu cua anywhere, and I taste it in her mother's recipe as well. We come from a culture that never questioned whether food was more than sustenance; we always knew it to be.

Have you eaten today? The words replace, how are you? They cross generations and even death itself. I see that in the fruit we lay on the altar every new moon and full moon, alongside a teacup and burning incense. I see it in the meticulously prepared meals laid out for tết, for death-days, for special occasions that we continue to share with our ancestors by cooking for them first.




Illustration of a family altar


I learned to love in the language of food, but the consequences of that ran deep; it also provided me with the tools for neglect. My relationship with food echoed my openness to the world and to myself. When I began to play around in the kitchen at nine years old, I made pizza, spaghetti Bolognese, and chocolate chip cookies. The foreign tastes made me who I wanted to be. I ate selectively. I groaned at dinnertime and told my mother to not bring any of her dishes to school.

Then, at thirteen years old, when fat began to show on my hips, my thighs, and my stomach, I ate little at all. I could never stop the way self-love intertwined with food. They mirror each other like a dance. One plummets; the other follows. Years of skipped meals became a habit I still struggle to shake at the end of a hard day, a hard week, when I look up and realize that food had been the first thing to go.

When we fall, we go back to basics, back to the white rice spoon-fed to me by my mother, my grandmothers, and my aunts. The practice of nourishing myself became the foundation for growing my self-esteem. Timid at first, I clung on to staple dishes for safety. Then, I took more risks in life, and I took risks in food; I can no longer tell which one came first. Only retrospectively did I recognize the road to knowing myself had been lined with dishes along the way—first in the baby steps of instant noodle packages prepared how my father likes them and then in leaping strides of a Hungarian goulash on a chilly evening out.




Illustration of bún riêu cua (Vietnamese soup of rice vermicelli)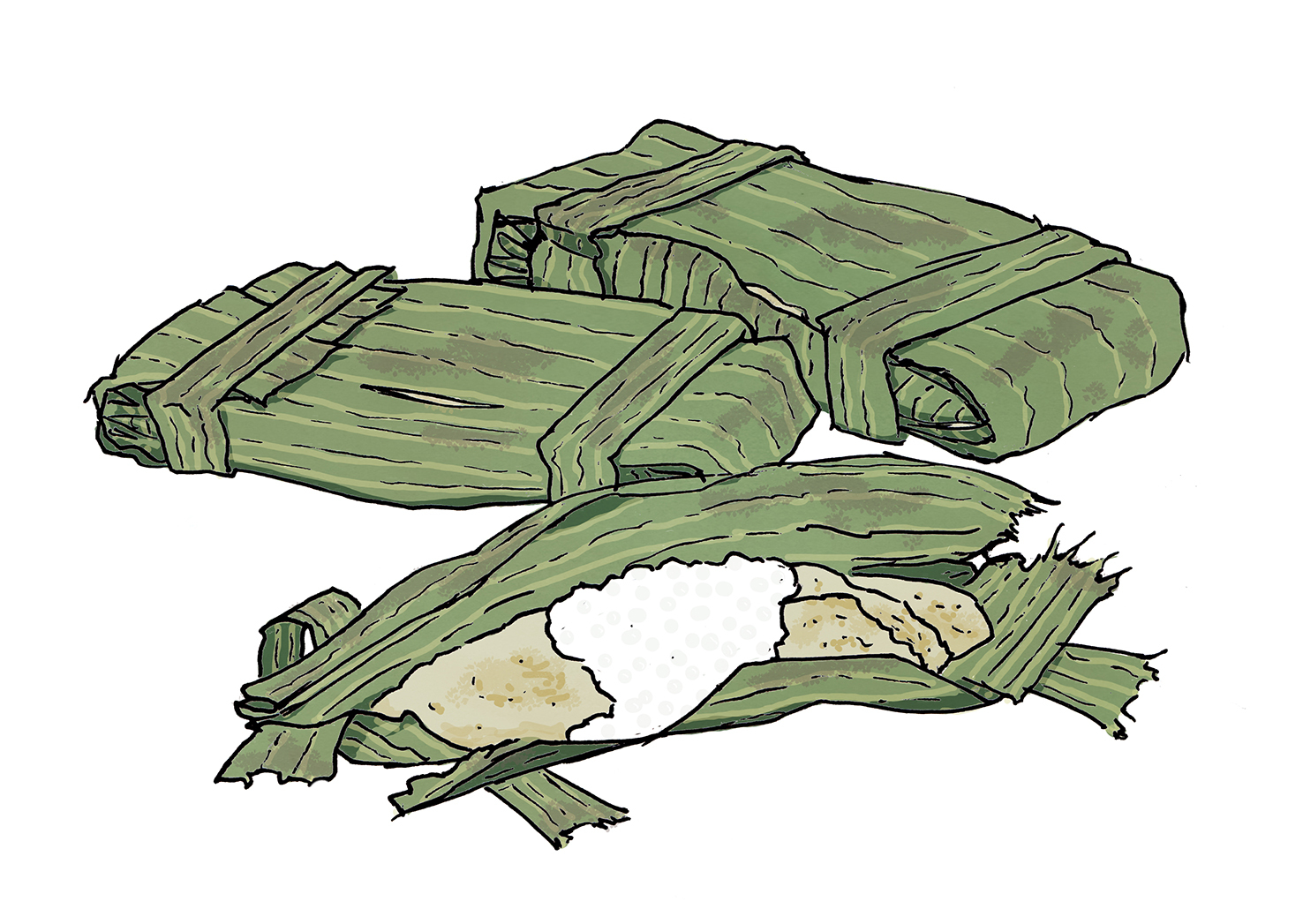 Illustration of chuối nếp nướng (Grilled banana wrapped in sticky rice)


I asked my mother for her recipes then, but she told me they did not exist. She told me they lived in feeling, in tasting, in experience handed down. I tried to copy down a few words, but they felt empty without her hands on mine the first times I rolled a spring roll. She stood beside me when I learned to clean beef bones for phở. She taught me how to pick each vegetable apart. No shortcuts exist in love languages, so we spent hours speaking in our mother tongue.

Over and over, we practice the gestures passed across lifetimes – an intentional process of care that can always be recovered. As I healed and celebrated my body, I learned to nurture myself. As I embraced my roots after a dozen years of rejection, the longing for bún riêu cua brought me home, back to the stovetop where noodle soups bubbled, waiting for me.




Illustration of bánh chưng, bánh nậm, gỏi cuốn (square rice cake, flat rectangular dumplings, spring rolls)
ABOUT THE AUTHOR
---
Linh Nguyễn
is a Vietnamese immigrant to Canada and a writer, specializing in creative non-fiction and children's literature. She is passionate about examining depictions of marginalized identities in popular culture and creating space for underrepresented voices in mainstream media.
ABOUT THE ILLUSTRATOR
---
Sean C Kershaw
grew up in Northern Ontario and is now a graphic designer, illustrator, and sequential artist living and working in Montreal.