The Joy (And Nostalgia) of Baking


The Asian-Canadian bakers of season six of The Great Canadian Baking Show
tell us about the delicious treats that defined their childhoods.

Introduction by Courtney Baird-Lew
November 16th, 2022

From golden, flaky, and buttery fresh-from-the-oven croissants to delicate and incredibly intricate cakes with various layers of sponges, mousses, creams, and glazes, baking is, undeniably, an art form—and a delicious one at that. A combination of chemistry and creativity, baked goods are a pleasure to eat, look at, dream about, and, for bakers, treats to create from scratch.
For the five Asian-Canadian contestants on the sixth season of The Great Canadian Baking Show—which brings together amateur bakers from across the country to compete in a series of themed challenges —baking has always been a part of their lives. To celebrate their craft, we asked each baker (in no particular order) to describe the sweet, savoury, and mouthwatering treats they most enjoyed when growing up.
Born in Vietnam and raised in Germany before moving to Toronto at 13, Chi watched cooking shows to learn English—which provided her with useful baking skills to make friends at school. Now they use baking as a meditative practice to balance out their busy career as the C.O.O. of a cellular tech company. Their vibrant style is inspired by their six-year-old daughter, Quinn, who is also their sassiest critic. Chi's partner, Ryan, lends a gentler ear and supports them by tidying up the post-baking mess.

Q: Which Asian baked good(s) did you most enjoy growing up, and why?
Chi:
Growing up, "banh bao" was probably one of my favourite foods. My mom would make plain ones, savoury ones with pork, black fungus, glass noodles and egg, or sweet ones with mung bean and coconut. Now that I have my daughter, she's equally obsessed with banh bao.
Left: young Chi | Right: Sushi-shaped bao they made for their daughter, Quinn.
Zoya has been baking since childhood after moving to Canada from Tanzania. With help from her mother and sister, she kept her own cupboard with everything she needs for her baking experiments. Her mother is still her biggest resource for baking advice and signature tools. Now a pediatric endocrinologist in Edmonton, Zoya has succeeded through medical school, residency, and fellowship. But baking in the Tent feels like her biggest challenge yet.
Q: Which Asian baked good(s) did you most enjoy growing up, and why?
Zoya:
My nani (maternal grandmother)'s recipe for coconut buns, a variation of "nankhatai", which is a classic Ismaili "nasto" or snack. The more common, typical nankhatai are like butter cookies and are delectable, but these are extra special because the bulk of the dry ingredients is desiccated coconut. They melt in your mouth and always remind me my family and especially my nani.
Left: young Zoya | Right: Her nani's recipe for coconut buns, a variation of nankhatai
Jomar spent most of his life in Winnipeg before moving to Toronto for work with his husband Carl. He found his chosen family while singing in the Toronto Gay Men's Chorus—who got to sample his baking experiments, which often incorporate Filipino flavours from his childhood. As a structural engineer, Jomar is precise by trade and feels the pressure that his bakes stand the test of the Tent. Jomar hopes that this experience on the show will help other queer Asian folks feel seen and inspires them to follow their dreams.
Q: Which Asian baked good(s) did you most enjoy growing up, and why?
Jomar:
Pandesal Buns (crunchy on the outside and impossibly soft and buttery on the inside) served with hot chocolate and Filipino Leche flan egg tarts (simple, lightly sweet, and subtle). I have fond memories of both of these bakes because mom made them during holidays (which were always better than store-bought, of course), but also because they were ubiquitous enough in the Filipino community that I could get them any time of the year at the local Filipino bakery if I wanted—which I always did. I've since adapted and modified mom's original recipes in the bakes I regularly make for my chosen family.
Left: Filipino leche flan egg tarts with vanilla bean | Centre: Young Jomar | Right: Pandesal buns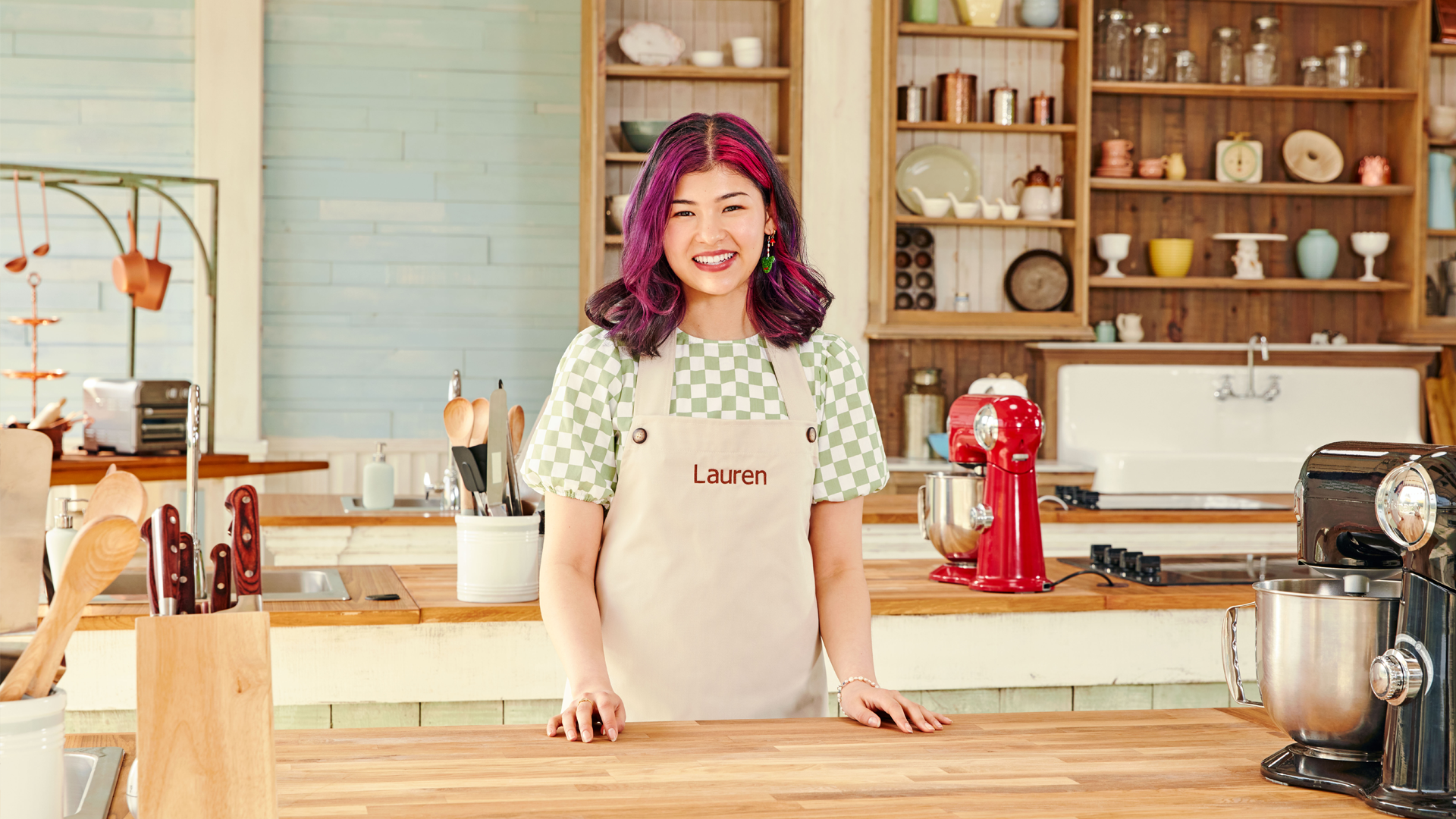 Finance student Lauren is a self-described twenty-one-year-old grandma. In addition to baking, her hobbies include knitting, crocheting, sewing, and collecting vintage teapots. But she's a grandma who has an eclectic twist: she's also a lover of classic cars and heavy metal music. Lauren has dreamed of being in the Tent since she was in tenth grade and was sadly too young to apply. Though she's the youngest baker of the season, she is armed with knowledge from her vast research, using her analytical skills and preparing as she would cram for a final exam.
Q: Which Asian baked good(s) did you most enjoy growing up, and why?
Lauren:
My favourite Asian baked goods were the hotdog buns that we got from the Chinese bakery. These were the perfect combination of sweet, fluffy, and salty and made for the perfect lunch. I haven't had a hotdog bun since going gluten-free, but the smell and taste are something that I'll never forget!
Left: Young Lauren | Right: Chinese hot dog buns
Kristi grew up in the U.S. and came to Canada in 2015 for graduate school. Here she met her wife, Abha, and decided to stay. Kristi excels at facing new tasks head-on, whether learning to laminate dough or building furniture from scratch. She discovered a passion for baking during the pandemic. Her hobby quickly became an obsession. Kristi loves to marry her Chinese heritage flavours with those from her wife's Indian background. When not baking, Kristi and Abha enjoy hiking around the city with their dog, Po.
Q: Which Asian baked good(s) did you most enjoy growing up, and why?
Kristi:
Dan tat: Hong Kong-style egg tarts. When I was growing up, my mom and I would get dim sum every Sunday morning—these were always my favourite! The crumbly pastry, silky, jiggly filling...there's nothing like it! We'd rate and compare them everywhere we went.
Left: Young Kristi | Right: Dan tat (Hong Kong style egg tarts)
---
The Great Canadian Baking Show airs Sundays at 8 p.m. on CBC, and streams live and on-demand on CBC Gem.
ABOUT THE EDITOR
---
Courtney Baird-Lew is a writer and lifestyle editor at Sticky Rice Magazine. Born and raised in Montréal, she believes in the power of great storytelling and a well-crafted sentence.