From left to right: Sticky Rice's Project Manager, Marianie Tô-Landry, treasurer Thầy Phước Tuệ, the Venerable Thầy Trường Phước and Sticky Rice's Editor-in-Chief Viet Tran.
Spotlight on
RADICAL COMPASSION
IN THE FACE
OF VIOLENCE
Lessons Learned from Our Visit to the Chùa Quan Âm Pagoda
August 10th, 2020
Interview by Courtney Baird-Lew
Photo by Richmond Lam

A white, faceless lion guards the gates of Chùa Quan Âm. Perched on a stone pedestal overlooking the quiet street in front of the Vietnamese Buddhist pagoda—its eyes, snout, and snarling teeth dismembered by a sledgehammer this past February—the lion serves as avisual representation of the resilience of those beyond the gates; of fortitude in the wake of violence, of silence in lieu of retaliation.

It is one of the many statues defaced not only at this pagoda but at temples and Asian neighbourhoods across the country during the COVID-19 crisis. With the goal of replacing one or more of these vandalized statues at the volunteer and community-run Chùa Quan Âm, Sticky Rice launched a crowdfunding campaign throughout July that raised enough funds to replace a total of two destroyed works.

To bookend the crowdfunding campaign with a meeting, and to deliver the funds to the pagoda in person, members of the Sticky Rice team (including Editor-in-Chief Viet Tran and project manager Marianie Tô-Landry) sat down with two of Chùa Quan Âm's Thays (or, monks) this past Sunday: the Venerable Thầy Trường Phước and the treasurer Thầy Phước Tuệ, serving as the Venerable's translator.

The Venerable Thầy Trường Phước (left) and treasurer Thầy Phước Tuệ (right) re-enacting what they saw in the crime's video footage.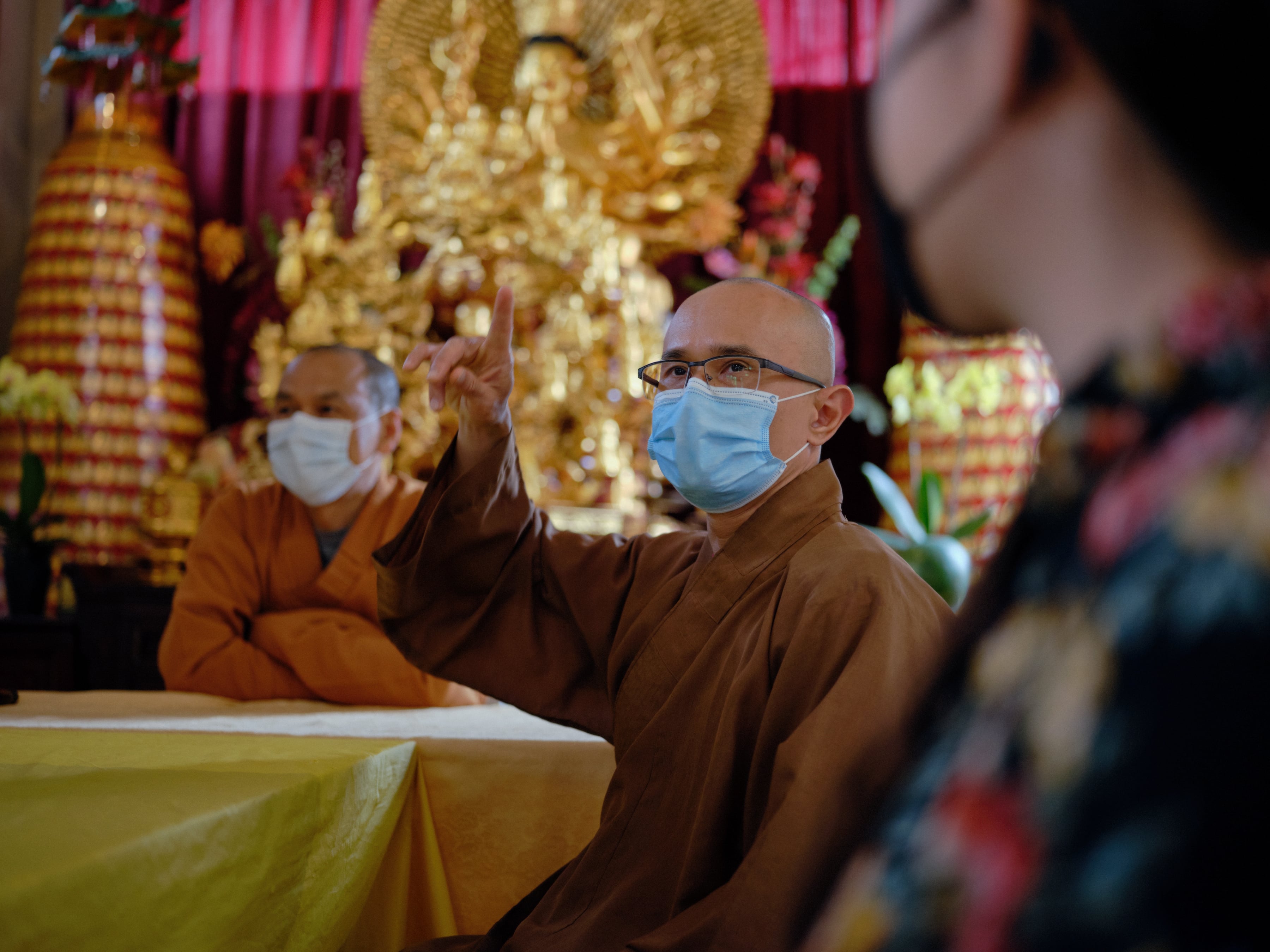 Entering the pagoda through the lower level, you are quietly greeted by both monks in protective masks. Long tables reserved for large, shared meals are vacant; the kitchen empty except for volunteers cooking meals for those at worship. Closed off to the general public until further notice, the natural silence of the pagoda is amplified; the shuffling of feet and the gong tap of another monk sitting cross-legged at prayer punctuating the meditative stillness.

While the world outside sits under a temperamental gray sky, the inside of the pagoda is layered in bright yellows and reds; the air filled with the delicate scent of flowers and lingering incense; shelves and tables filled with smiling buddhas next to apples, oranges, teacups and candles; the whispered translations of Vietnamese to French and back again; and an overwhelming sense of calm that fills the room, settling on everyone's skin like sunlight.

Buddhism is both a religion and philosophy; a way of life that interprets the world through a lens of compassion and understanding, all with the goal of transcending human suffering. On February 22nd, a man in a hooded black sweatshirt was caught on tape hammering into the statues surrounding the pagoda's fountain. Rather than sharing in the social media outrage that followed the attack, the monks assessed the damage in a different way. "When he [the Venerable] saw the video, he saw that this person was suffering," says the Treasurer, "of course there was anger, but we think about the other person's problems. We practice, but there is always a mix of emotions. It is all about calming those emotions, calming our spirit...channeling love and kindness.
More so, "it is only compassion that can combat hatred. Violence cannot conquer violence," he explains, pointing to Buddhist text hanging above the window. On the opposite wall is a small rendering of what Chùa Quan Âm will look like once their new building is complete. Located a few meters away from the current pagoda and attached by a walkway, the new pagoda is vast: a well-designed house of worship, 15 years in the making, that will provide rooms for the monks, new areas to teach those young and old, and a rooftop terrace that willmake way for open-air reading and meditation.
From left to right: Sticky Rice Lifestyle Editor Courtney Baird-Lew, Project Manager Marianie Tô-Landry, Editor-in-Chief Viet Tran, treasurer Thầy Phước Tuệ, and the Venerable Thầy Trường Phước.
And while all their teachings are currently in Vietnamese, they are working on ways to expand their lessons to include an audience who may not consider it their first language. Forthem, it is an endless brainstorm process dedicated to helping those in need: those who, in this pandemic, are afraid and alone; those in search of mindfulness, of some sense of purpose and inner peace.

When reminded of the reason for the meeting – a donation – the monks simply nod in thankful acknowledgment. Money, in this environment, is devoid of ego. Any excitement around anything material would be misplaced. And while the statues will likely take a very long trip from Vietnam to this quiet, wide road in Côte-des-Neiges in future, there is a sense, at this pagoda, that time is a but a series of moments that require empathy rather than explanation. That even though a lion no longer has a mouth to roar, it will always have a voice.
To those who have donated to our crowd-funding campaign: thank you again for your support.
ABOUT THE AUTHOR
---
Courtney Baird-Lew is a writer and lifestyle editor at Sticky Rice Magazine. Born and raised in Montréal, she believes in the power of great storytelling and a well-crafted sentence.