CREATING CONVERSATIONS


Reading Recommendations from Weird Era x Librairie St-Henri Books

Introduction by Courtney Baird-Lew
Reading Recommendations by Sruti Islam
July 26th, 2021
If books ignite the imagination, booksellers are the ones who spark the flame. They are purveyors of written worlds both comfortably familiar and jarringly foreign—ones that invite us to cherish, reassess, and even confront our realities in ways that place lasting stamps on the psyche. Pair that with the physical act of holding a book's spine, the touch of a turning page, the left-to-right scan of a painstakingly composed text, and you have something that many would call: magic.

Tucked away in the heart of Montreal's St-Henri neighbourhood is Librairie St-Henri Books: a small and elegant space that offers a highly curated selection of books that aim to elevate outstanding (and necessary) work by authors and artists both renowned and up-and-coming. Managed by Alex Nierenhausen, whose many literary tattoos are one of the numerous hints that the written word runs deeps, LSHB carries books (as well as zines, art prints, and more) chosen specifically for its community.



In 2019, the bookstore expanded its reach by partnering with Weird Era: a literary space founded by writer and avid reader Sruti Islam whose penchant for excellent book recommendations—and years spent in the publishing industry—has made her a literary authority in Montreal and beyond. With a dedicated Weird Era shelf in the store, the partnership expanded at the beginning of 2021 to incorporate a literary podcast, which wrapped its first season this past June.

Featuring a host of international and local writers, from Paul Mendez and Larissa Pham to Montreal's own Daphné B., the LSHB Weird Era Podcast is currently preparing for its second season (to be launched in Fall 2021).




In this spirit of collaboration, we asked Sruti (Weird Era) to curate a list of recommended reading by Asian authors and authors of colour, both near and far. Find her reviews of each recommended book below. All books are available for purchase at Librairie St-Henri Books.


Reading Recommendations by Sruti Islam (Weird Era) for Libraire St-Henri Books
Sour Heart by Jenny Zhang
Zhang's collection of short stories are tender while carrying a distinct scent. She welcomes readers into the homes of Chinese immigrant families, careful to consider the differing perspectives of both child and parent.
Breasts and Eggs / Heaven by Mieko Kawakami
Breasts and Eggs
is a monumental meditation on motherhood—biologically, spiritually, and ultimately asks what motherhood means in relation to the self, rather than the child. Heaven is Kawakami's much-anticipated debut and sure to be another expansive philosophical investigation, this time on bullying and social violence.
The Star
by Yukio Mishima
A treat! I'm a big fan of Japanese-English translations, there's a subtle but blunt edge to the way the language converts. This slim novella explores the psychology of a pop star, who quells his anxieties over fame with an unexpected attraction. In many ways, this reads as erotic.
My Year Abroad by Chang-rae Lee

A total page-turner. Lee is a master at writing fluid prose and impossibly loveable characters. Our narrator, Tiller, explores his own identity in sparking a mentorship with Chinese American entrepreneur Pong Lou. There is more to Pong than Tiller understands, but it won't take long for readers, too, to feel the pull of Pong's elusiveness.
Minor Feelings: An Asian American Reckoning
by Cathy Park Hong
Often, there are books I wish we could start incorporating into base educational systems. Hong's collection of essays reflecting on the Asian American experience is just that. This book clarifies Asian culture from the ways it is so often misunderstood.
Reading Recommendations by Sruti Islam (Weird Era) In-Store Fall 2021

Personal Attention Roleplay by Helen Chau Bradley
Local writer Helen Chau Bradley is a fresh Montreal voice—a force to be reckoned with. I have been anticipating their collection of short stories for some time now—their prose is precise, and the worlds they build are strange and terribly addictive.
A Feather on the Breath of God by Sigrid Nunez
This 1995 debut novel from a contemporary favourite will see a brand new reprint in the Fall of 2021. Nunez, the daughter of a German mother and a Chinese-Panamanian father explores this very identity in a novel, bursting with love and affection for the families that come to make us who we are.
Afterparties by Anthony Veasna So
This debut novel from late Khmer author Anthony Veasna So is the kind of art that simply sparks the feeling of finally. With these stories, So shines a light on the too often overlooked stories of Khmer North Americans. How can these stories not be rich? They're about a people, who's survival of a violent genocide, unravelled to form an array of gorgeous subcultures. It screams: here we are.
More news from Weird Era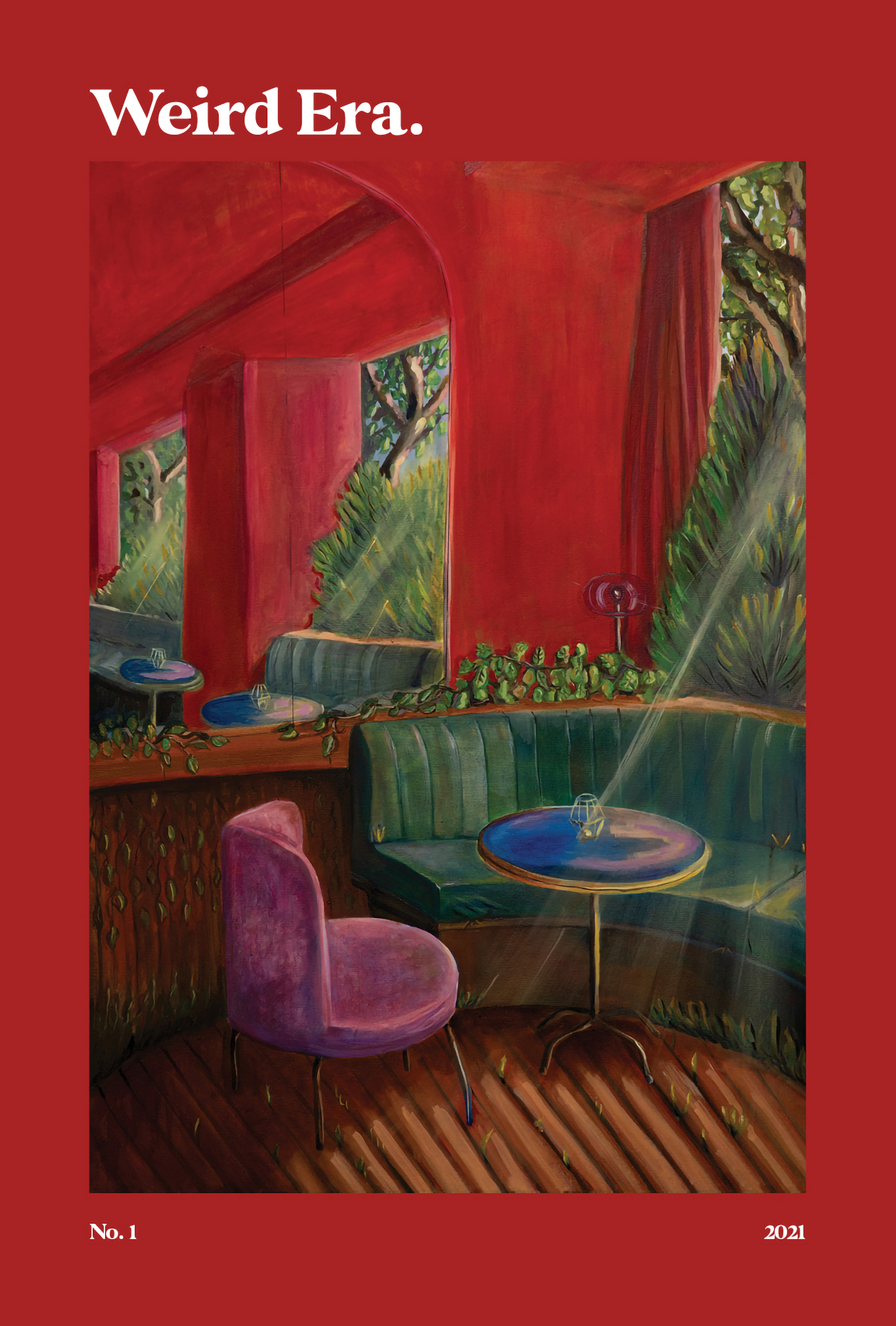 In addition to the podcast, Weird Era will be launching a literary arts journal, aptly named Weird Era No.1, featuring work by Alex Manley, Cason Sharpe, China Marsot-Wood, Domenica Martinello, Filidinos Tat, Fiona Alison Duncan, Heather O'Neill, Helen Chau Bradley, Laurence Antony, Mali Savaria-Ille, Marilyn Farley, Marlowe Granados, Marta Ryczko, Monica Heisey, Natalie Hero, and Sruti Islam.
Created and edited by Sruti and sponsored by Librairie Saint-Henri Books, the literary arts journal will be available for pre-orders beginning online mid-August (
here
), with copies available exclusively at Librairie Saint-Henri Books upon release.
ABOUT THE EDITOR
---
Courtney Baird-Lew is a writer and lifestyle editor at Sticky Rice Magazine. Born and raised in Montréal, she believes in the power of great storytelling and a well-crafted sentence.